Lessons learned: Using teamwork as a baseline to navigate COVID-19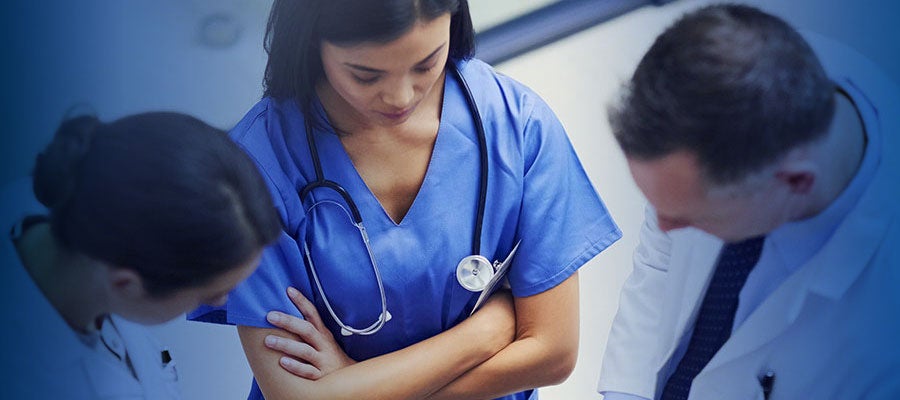 As the COVID-19 pandemic entered our country, hospitals and clinicians faced something never seen before. We quickly and significantly altered the playbook for disaster and emergency preparedness, collaborating, innovating, utilizing and deploying every available resource to survive the crisis. A crisis, unfortunately, that many are still battling.
While COVID-19 surges continue in the midst of the influenza season, lessons learned by health systems large and small reveal the importance of teamwork, communication, flexibility, preparation and supporting the physical and mental health of all staff. Insights from hospital and clinical leader members of the American Hospital Association and American Society of Anesthesiologists, who navigated COVID-19 when it first arrived, reveal key strategies to provide the best patient care and keep front-line workers safe. In this final in a series on these lessons, we explore the massive importance of supporting our health care workforce.
In addition to learning how to best treat an overwhelming number of patients with a new and rapidly evolving infection, it's critical to connect team members to resources that help them address the enormous physical and psychological toll.
Long hours and constantly being on shift affect hospital staff, placing them at increased risk for getting sick. Then there is the impact on emotional wellbeing.
Additionally, many staff quarantine from their families to protect them, which mean they can't rely on their normal family support. And because hospitals lost revenue due to a moratorium on essential procedures, many staff face layoffs or furloughs, adding to their stress.
"It had a devastating impact on caregivers to experience far more deaths than they were used to, despite doing everything possible for patients," said Robert Riney, president of health operations and chief operating officer at Henry Ford Health System. "We committed to supporting them in a multitude of ways through this process."
Developing wellness programs as early as possible to support the workforce is critical. Henry Ford employed programs with a variety of formats and forums, using Zoom meetings, town halls and online department lounges to leverage community support and allow staff to express their fears and frustrations.
Clinical and administrative teams that have collaborated before on projects, such as the Perioperative Surgical Home, help transform health care delivery. COVID-19 takes this partnership to a new level. The lessons learned provide hope for the promise of a brighter future, in which decision making happening in a collaborative, more agile way will be the new norm.
Additional resources are available at AHA Updates and Resources on Novel Coronavirus (COVID-19) and ASA COVID-19 Information. More resources designed to support those leading through crisis and fostering well-being across an entire organization provide free tools and real-world examples.
Patrice Weiss, M.D., is the past chair of American Hospital Association Committee on Clinical Leadership and the executive vice president and chief medical officer at Carilion Clinic, and Beverly Philip, M.D., is president of the American Society of Anesthesiologists.