Amplifying Mothers' Voices: 5 experts, 5 takeaways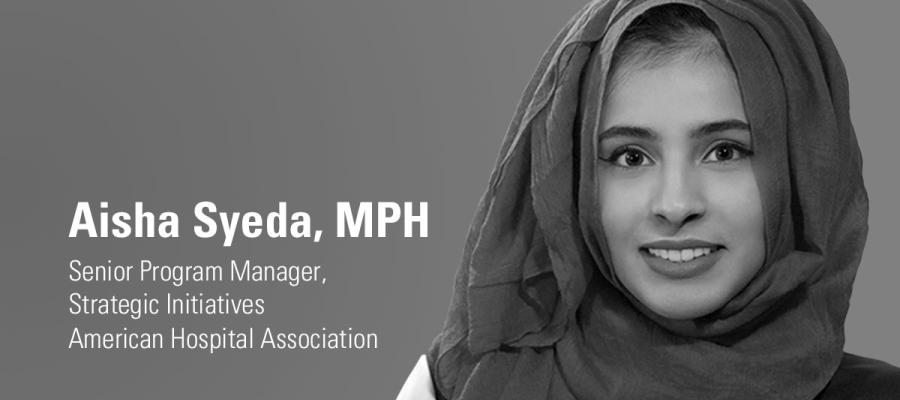 On April 7, the American Hospital Association brought together experts from across the health care field for a national conversation dedicated to maternal health equity.

We discussed how to identify and address inequities in maternal care, empower doulas and midwives, advocate for women of color and create solutions to address chronic conditions and societal factors that affect women's health.

Rep. Lauren Underwood, D-Ill., kicked off the event with a special message acknowledging National Minority Health Month (April) and Black Maternal Health Week, April 11-17. She noted that "coverage alone will not reduce maternal morbidity and mortality…we need to take bold action to advance data-driven, evidence-based policies that center the voices of mothers and families impacted by this crisis."

Our five featured maternal health experts each shared ways we can move the needle on ensuring better maternal health outcomes for all women.
Uncover implicit bias.
Racism and discrimination exists in the health care system as it does in any other field. Uncovering implicit bias requires a degree of courage and self-reflection. By doing so, "we can begin the process of trying to understand how it interferes with health care delivery…and be accountable for making changes," expressed Stacey Stewart, president and CEO of March of Dimes. Hospitals and health systems can start this reflection by offering implicit bias training. March of Dimes "Breaking through Bias in Maternity Care" training equips health care providers with important insights to recognize and remedy implicit bias, along with recommendations to improve patient-provider communication and build a culture of equity. Learn more.

Collaborate to focus care around the needs of women and their families.
Each of us is an extension of our community, and there is a role for all of us in providing equitable maternal health. We need a range of clinical-community partnerships, including working with doulas and midwives, to truly transform care to be more holistic, high-quality and patient-centric. Chanel Porchia-Albert, a certified doula, and the founder and chief operating officer for Ancient Song Doula Services said, "The needs of a community are ever evolving, and we have to be fluid," to create better opportunities for equitable care, whether it be in-person or virtually.

Access goes beyond clinical care, and must expand to other individuals.
If we allow individuals to be active participants in their own care, we as providers are more likely to understand that their needs may range from clinical, emotional to societal. Nicolle Gonzales, a registered nurse, and founder and midwifery director of Changing Women Initiative, shared that many Native American women were unable to access care adequately throughout their whole pregnancy because of COVID-19, and many lack access to essentials, such as food, clean water or diapers. She added, "We have to pivot the framework and start thinking about the whole community. What services are available in their community and what are not? And who's on the ground providing these services," especially in underserved, underrepresented communities.

Acknowledge women's health as part of the care continuum.
"Pregnancy can be a window into a women's future state of health," explained Richard Beigi, M.D., president, UPMC Magee-Womens Hospital. For example, hypertension and diabetes are factors that may cause high-risk pregnancies, but many women continue to experience these conditions, or portend worst cardiovascular outcomes post-pregnancy. AHA's case study and podcast on UPMC Magee-Womens Hospital highlights its prenatal and postpartum remote monitoring program. We have to strive to create a continuity in care rather than apply an episodic approach. This also will contribute to identifying any related disparities in a lifespan, especially in women of color.

Restore trust between patients and providers.
"Comprehensive focus and compassion is really a part of the care continuum. We have seen a lot of hesitancy in terms of the sense of safety in seeking care and that as a result can impact the wellness and health care journey for many women," said Sheri De Shazo, president, Advocate Sherman Hospital. We have to be intentional in establishing programs, initiatives and employing diverse health care professionals that empower women to be ambassadors and decision-makers of their care. Only then can we strengthen the bond women may have with their care provider.
Throughout the event, we heard hospitals, health systems, clinicians and other care providers cannot do this work alone. At the table, we need the voices and expertise of all types of individuals, especially mothers and their families, to create proactive solutions to address the root causes of maternal morbidity, mortality and disparities in this country.

If you missed AHA's Amplifying the Voices of Mothers event or want to listen again, click here. Are you amplifying the voices of mothers, especially of women of color, in your communities? I want to know more; please email me at saisha@aha.org to share your efforts. Learn more about AHA's work on maternal health equity by visiting our Better Health for Mothers and Babies initiative.

Aisha Syeda, MPH, serves as program manager of strategic initiatives at the AHA.