5 Ways Administrative and Clinical Leaders Can Convene for Value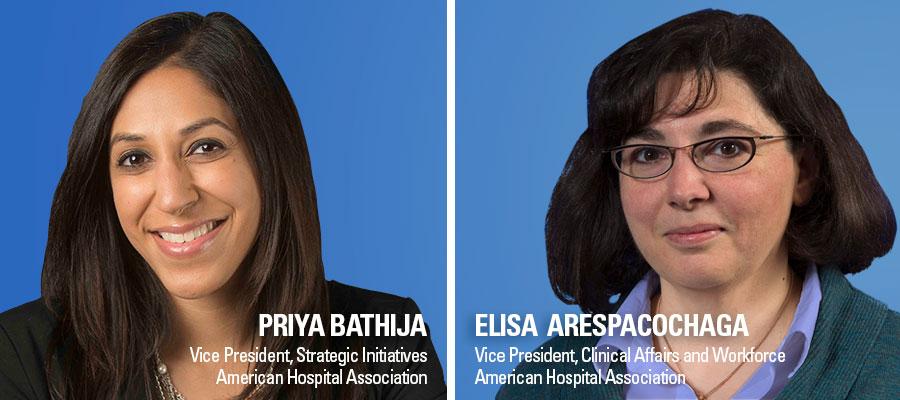 The COVID-19 pandemic has forever altered the way hospitals and health systems care for patients. Much has been written and said about the pandemic's devastating effects; there are, however, some silver linings.

For one, innovation, virtual care's use and the adoption of value-based strategies, such as hospital-at-home and team-based care, accelerated at warp speed over the last 16 months, cementing their use in health care delivery. This rapid change affords hospitals and health systems a unique opportunity to integrate care across the continuum to generate value for their patients and communities.

As we move forward, it will be critical for partnering between administrative and clinical leaders when designing and implementing value-based strategies. AHA's The Value Initiative and Physician Alliance brought together eight hospital and clinical leaders for a four-part podcast series to discuss the power of such collaborations, joint learning and alignment on value.

Here is what we learned:
1. Patients must be at the center.
Hospitals that offer high-value care are putting patients at the center and delivering holistic and compassionate care.
"It's important that value doesn't get conflated with just waste reduction or out-of-pocket costs," said Chris Moriates, M.D., assistant dean for health care value at Dell Medical Center and executive director of Costs of Care, a global nonprofit curating clinician insights that drive better care at lower cost. "It has now moved to how do we provide the best outcomes for our patients, the best care at the right location and lowest cost, and ensure individual affordability."

By engaging patients, family and communities in their own care and outcomes, "we have the potential for creating a new level of patient loyalty which we must continue to harness, embrace and nurture", added Agnes Barden, vice president of Northwell Health's Office of Patient & Customer Experience.
2. Value is the catalyst for better health.

It is the job of both hospital and clinical leaders to advocate for patients. They also must continuously learn to navigate appropriate care that meets patients' needs. Brooke Buckley, M.D., chief medical officer for Henry Ford Wyandotte Hospital, emphasized that point. "We need to challenge ourselves, bring individual curiosity, skills and knowledge to the table, and have broader conversations on consumerism, payment reform, innovation, etc. to improve patient experience," Buckley said. In these conversations with payers and stakeholders, value can become the connector and voice of reason.

When innovating better ways to deliver care, you are creating space for integrated care. It is "bringing caregivers to the right acuity level for the patients, which in itself will bring down cost and increase value," explained Rob Rose, chief nursing executive for Atrium Health's Central Market.

Achieving value is a collective mission, and all leaders and their peers must recognize and communicate its importance to optimally deliver care.

"Telling the success stories of COVID-19 is going to permanently change the paradigm - you are going to see the value of value," emphasized David Perlstein, M.D., SBH Health chief executive officer.
3. Telehealth is here to stay, and it must be redesigned to strike the right balance between in-person and virtual care

Though aspects of on-demand consumerism aren't going away, hospital and clinical leaders are challenged with finding the right balance between telehealth/virtual care and in-person interactions. Together, these leaders need to explore how to provide better communication and connection through telehealth visits, while broadening their understanding of telehealth's impact on the patient experience.

As telehealth practices continue, leaders need to advocate for continued reimbursement for telehealth visits, along with funding to test innovations that can improve care delivery. We must experiment and monitor and analyze outcomes.

"We have to take advantage of this opportunity to embed effective practices more efficiently and sustainably, and rebuild in a better way" said Pam Johnson, M.D., vice president of care transformation for Johns Hopkins Health System, and co-founder of the High Value Practice Academic Alliance.

4. Societal factors that influence health must be addressed.

The COVID-19 pandemic has shed light on many health care disparities, elevating the importance of addressing societal factors that impact health to achieving value. These factors can no longer be left unaddressed by our society; leaders must also join hands with community organizations on this journey.

"We need a broader coalition, with domain experts and knowledge, and the support of local and state governments and business leaders in our communities," said David Zaas, M.D., chief executive officer of MUSC Health's Charleston Division, MUSC Health, and the health system's chief clinical officer. "This is a societal obligation."
5. Build a better, healthier ecosystem.

Leaders need to create an ecosystem based on a culture of trust and collaboration, patient-centered care, compassion and accountability. To do so, "we have to have open dialogues and willingness to purposely do the right thing for the patient," said Michael Suk, M.D., Geisinger System Services' chief physician officer, and chair of the Musculoskeletal Institute & Department of Orthopedic Surgery for Geisinger Health.

Transforming a culture from provider-centric to patient-centered can be a challenge, but hospitals must empower their teams to give patients autonomy in their care, while building trust. There may be failures along the way, but clinicians can encourage their teams to voice those challenges, failures and successes.

"You have to work on becoming a highly reliable organization, so you have to communicate, and listen and learn," said Perlstein.

Working towards value is a team sport—not the job of any one individual. Together, hospital leaders and clinicians must believe in this mission and work alongside each other.

To learn more about ways you can encourage collaboration and joint learning across your team, listen to AHA's four-part Value Rounds podcast series: Working Towards Value Together.

Priya Bathija is AHA's vice president of strategic initiatives, and Elisa Arespacochaga serves as vice president of clinical affairs and workforce.