Destination Justice – Now is the time to move beyond equity to justice ... starting with behavioral health
"And the norms and notions of what 'just' is isn't always just-ice." 
These provocative words were spoken by National Youth Poet Laureate Amanda Gorman at the recent presidential inauguration. During the 'twindemic' of COVID-19 and events sparked by the murder of George Floyd, it became painfully evident for communities of color across America that what "just is" is far from justice. From a medical perspective, constant exposure to stress is detrimental to one's physical and mental health.
Among many health care entities, efforts are underway to achieve health equity to ensure that individuals, programs and organizations have the needed tools to achieve favorable health outcomes. The concept that justice is the third part of the equality-equity-justice continuum is being incorporated into Diversity, Equity, Inclusion and Social Justice (DEIJ) strategic plans. It is increasingly evident to those of us who have traveled and fought on the equity road for over a decade that barriers must be removed for justice to ultimately be realized.
During the COVID-19 crisis, while many individuals delayed their physical checkups, we also saw an exacerbation and the emergence of newer mental health challenges.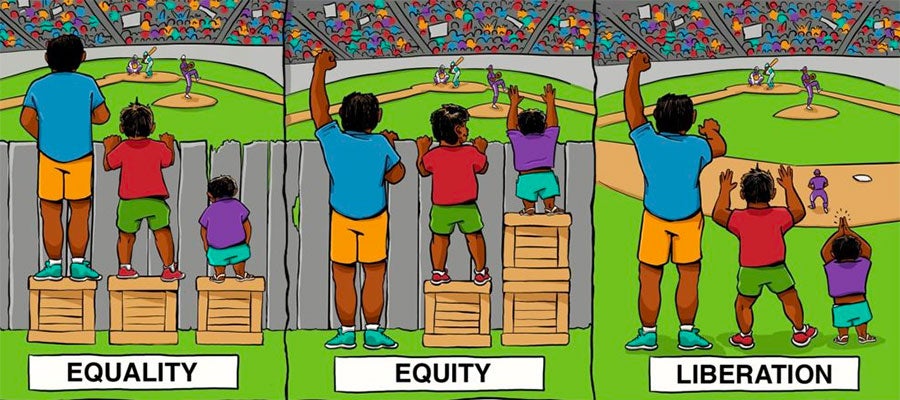 *The Center For Story Based Strategy | Interaction Institute for Social Change | Artist: Angus Maguire.

While rates of behavioral health disorders in Black individuals may not significantly differ from their white counterparts, during the pandemic communities of color were disproportionately impacted, including the fact that communities of color have substantially limited access to behavioral health care services. Additionally, research indicates that Black Americans experience earlier health deterioration as measured by biological indicators when repeatedly exposed to and making adaptation to chronic stress. In order to dismantle these profound health disparities, we must address the structural and institutional aspects of racism that contributes to them. As a result, individuals who have been systematically oppressed, disenfranchised and marginalized by current behavioral health systems face long-term side effects. 
Finally, according to the American Psychiatric Association, a lack of cultural understanding by health care providers may contribute to under-diagnosis and/or misdiagnosis of mental illness in people from racially/ethnically diverse populations. Factors that contribute to these kinds of misdiagnoses include language differences between patient and provider, stigma of mental illness among communities of color, and cultural presentation of symptoms – which can impact how someone perceives or describes their symptoms, the types of treatment they will accept or if they seek treatment at all.
My call to action: 
Know who you are serving and whether disparities exist by collecting self-reported data and stratifying that data by race and ethnicity; 
Increase the number of racial and ethnic underrepresented minorities in the health care workforce that reflect communities served;
Remove barriers in behavioral health communications by offering messaging in ways that are accurate, culturally competent, relevant, and appropriate to the specific communities of color being addressed;
Engage in courageous conversations and knowledge-building around how non-traditional considerations, such as childhood trauma, racism and more, impact communities of color; 
Engage diverse communities as partners to assist in identifying and implementing solutions;
Continue to discover innovative ways to provide equitable behavioral health care services for all populations through behavioral health integration efforts that connect a patient to a behavioral health specialist during a primary care visit.
In time, I hope the road to equity will be paved with interventions that make the highway barrier free and, with collective efforts from us all, we can accelerate the work towards that destination of justice.

Kimberlydawn Wisdom, M.D., M.S., is senior vice president of community health and equity and chief wellness and diversity officer at Detroit-based Henry Ford Health System, chairperson of AHA's Institute for Diversity and Health Equity Leadership Council, and the nation's first State Surgeon General. 

Opinions expressed by the author do not necessarily reflect the policy of the AHA and is an independent viewpoint of an expert in the health care field