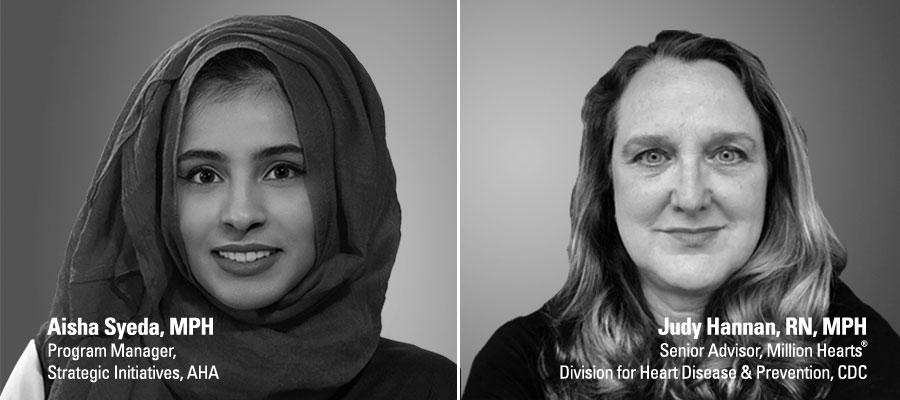 Every year, more than 1.6 million people in the U.S. suffer from heart attacks and strokes and more than 870,000 die from a cardiovascular disease. Though those numbers are alarming, what is more distressing is that 80% of those deaths are preventable.
Million Hearts 2027 is a national initiative co-led by the Centers for Disease Control and Prevention (CDC) and the Centers for Medicare & Medicaid Services to prevent one million heart attacks, strokes, and other cardiovascular events over the next five years. Supported by CDC's Division for Heart Disease and Stroke Prevention, the initiative convenes health care workers and public health champions, supports working together and sharing resources; promotes evidence-based strategies to prevent cardiovascular disease; and addresses health equity through policies, processes and practices.
To learn more about this initiative, I speak with Judy Hannan, senior advisor for Million Hearts.
Syeda: Judy, can you describe how the Million Hearts 2027 initiative will achieve its goal of preventing one million cardiovascular events in the next five years?
Hannan: It really comes down to integrating evidence-based strategies and protocols to build healthier communities and optimize individual care. Our focus will be to reduce smoking, physical inactivity and particle pollution exposure in our communities by 20%, as well as improve performance on the ABCS by 20%. The ABCS are:
Aspirin use or other anticoagulants, as appropriate,
Blood pressure control,
Cholesterol management, and
Smoking cessation.
If we, as a nation, were able to make those improvements, one million events would be prevented.
Lastly, another goal of Million Hearts is to achieve a 70% participation rate for people eligible for cardiac rehabilitation. Achieving this five-year goal alone would prevent 25,000 deaths and 180,000 hospitalizations annually!
Syeda: Over the next five years, what role can health care systems across the country play in this initiative?
Hannan: Health care systems have a huge role in preventing heart attacks and strokes. As major employers, health care systems can prioritize the cardiovascular health of their employees; as leaders in their communities, health care systems can advocate for some of the environmental changes that make healthier choices be easier choices for individuals in their communities, and of course, health care systems play a huge role in prioritizing achieving better results in the ABCS and in improving participation in cardiac rehabilitation. Our website has a number of protocols, change packages, action guides and resources that could help health systems be part of the 20% improvements.
We strongly encourage hospitals and health systems to consider applying to be recognized through the Million Hearts Hospitals & Health Systems Recognition Program. The application process itself outlines key strategies that hospitals can take to prevent cardiovascular events. This program acknowledges organizations working to systematically improve the cardiovascular health of the population and communities they serve. Even if not sure that they would want to apply for recognition, the application process itself outlines a number of key steps that health systems could take.
Syeda: How is this initiative making the interconnections between health equity and cardiovascular health?
Hannan: You may already know this, but, cardiovascular disease is the greatest contributor to racial disparities in life expectancy. Uncontrolled hypertension is the primary contributor to the morbidity and mortality rate disparities in cardiovascular disease between Black and white individuals.
A major part of Million Hearts 2027 aim is to advance health equity through policies, processes and practices that provide fair access to resources and opportunities that enable cardiovascular health for all. There is a deliberate emphasis on several populations that currently experience a disproportionate burden of cardiovascular disease and poor outcomes, which include people who:
are pregnant, along with postpartum women with hypertension;
are from racial and ethnic minority groups;
face behavioral health challenges and use tobacco;
have lower incomes; and
live in rural areas or other 'access deserts.'
We have evidence-based strategies highlighted for each of these populations to ensure that we can optimize care for all.
Syeda: That's wonderful! I see that one of those populations is pregnant and postpartum women with hypertension. We know that hypertension among pregnant and post-partum women contributes to maternal morbidity and mortality, especially for women of color. How will Million Hearts 2027 address this challenge?
Hannan: Cardiovascular conditions are a leading cause of pregnancy-related deaths and are responsible for one in three pregnancy-related deaths. Black women, American Indian/Alaskan Native women, and women living in rural areas have significantly higher rates of pregnancy-related deaths. Also, Black women and women over 40 have higher rates of hypertensive disorders of pregnancy (that is, chronic hypertension, gestational hypertension, preeclampsia and eclampsia).
To address this challenge and the health care disparities associated with it, Million Hearts 2027 strategies for pregnant and postpartum women focus on preventing and managing hypertensive disorders of pregnancy. The strategies include:
championing widespread self-measured blood pressure (SMBP) use among pregnant and postpartum women;
expanding Medicaid to include coverage for blood pressure monitors, medications, and extending coverage to one-year postpartum;
supporting opportunities to close care gaps when women transition from OB/GYN care to primary care; and
promoting aspirin use for women at high risk of pre-eclampsia.
Syeda: Can you share an example or two of how health care organizations are committing to improving cardiovascular health? What are some evidence-based practices you have seen over the years, especially for women?
Hannan: One notable example is the Missouri Hospital Association, a Million Hearts Hypertension Control Exemplar, which provided 3,000 home blood pressure cuffs to pregnant and postpartum women at risk for hypertension complications. Patients felt empowered when using the kits for home monitoring, and were able to determine when they needed to return to the birthing unit or their clinician for ongoing management of high blood pressure.
For more success stories, I'd like to refer you to our Hypertension Control Champions, Hypertension Control Exemplars, and Million Hearts Hospitals & Health Systems.
______
Because hospitals and health care systems are the epicenters of care in their communities, for patients, employees and community members alike, the AHA's Better Health Mothers and Babies initiative is partnering with Million Hearts 2027 to help health systems take on this initiative; and recognize and improve the cardiovascular health among women, especially for those that are pregnant or postpartum. Learn more about the initiative and available resources here.
For AHA resources, visit our maternal and child health page. Please visit often as we will be adding cardiovascular-related resources throughout the year.
Aisha Syeda, MPH, is a program manager for AHA's Strategic Initiatives. Judy Hannan, RN, MPH, is a senior advisor at CDC's Million Hearts.