Making Maternal Mental Health a Priority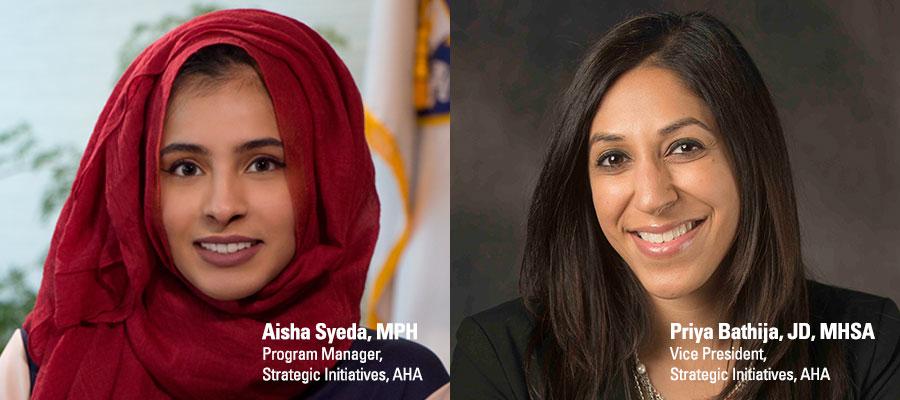 According to latest data from the CDC, the U.S. maternal mortality rate, already significantly higher than in comparable countries, continues to rise, specifically for women of color.
In one-year postpartum, suicide and substance use are the leading causes of maternal deaths, with suicide accounting for 9% of the maternal mortality rate. Maternal mental health conditions, such as anxiety, perinatal and postpartum depression, birth-related PTSD, are the most common complications of pregnancy and childbirth, affecting 1 in 5 women. Among those affected, 75% go untreated. While women of color are more likely to experience these conditions, they also are less likely to seek help.

What remains surprising is, 100% of these conditions respond to early interventions and/ or treatment.
AHA has partnered with 2020 Mom, a national non-profit organization dedicated to closing gaps in maternal mental health care, to produce tools and resources specifically for hospitals and health systems to improve maternal mental health.
As part of this partnership, we were privileged to be part of two panel discussions at 2020 Mom's Annual Maternal Mental Health Forum, Building the Maternal Mental Health Constellation. The first session focused on understanding the stressors of pregnancy, especially for women of color, and the other session explored best practices for improving maternal mental health outcomes.
The first session emphasized the need to start dialogue about the real-life experiences of women of color, and use data to inform solutions for improving their maternal mental health. In partnership with First Year Cleveland, we watched the 20-minute film, Toxic: A Black Woman's Story, that walked viewers through a day in the life of Nina, a pregnant Black woman, and highlights the forms of racism she faces in her personal, professional and medical encounters.
After the film, Catherine Monk, M.D., professor of medical psychology and director of Women's Mental Health at Columbia University Medical Center, supported Nina's experiences in the film with real-life data on the various causes of distress in pregnancies. She addressed its intergenerational impact and underlined the racial disparities that plague the lives of Black moms and other women of color. For example, mothers born preterm are more likely to give birth preterm, especially amongst Black women. Women of color have also been shamed and blamed in the instance of a loss. Additionally, 10-20% of women experience perinatal depression; rates double for those with low socioeconomic status and for people of color. This continued stress creates an allostatic load or "wear and tear" on one's body.
Key Takeaways
We then led a discussion with First Year Cleveland's Interim Executive Director Katrice Cain and Dr. Monk to discuss how we can use both real-life experiences and data to improve maternal mental health outcomes for all women. They offered these tips:
Acknowledge that racism exists in our communities, and has for over 400 years, regardless of where you live and how well one is educated.

"Nina being a Black pregnant woman

who seems to have all the protective factors such as education, employment, safe environment, a supportive and loving husband; she still can't be protected from the individual, institutional and systemic racism that permeates every aspect of a Black woman's life which leads to toxic stress and poor health outcomes," explained Cain.
Create healthy and safe spaces for patients and colleagues to share their experiences and listen. Dr. Monk shared, "We must listen to patients and individuals better, and self-reflect on our own feelings to better understand someone else's experiences. This builds trust and courage to speak as well as allows health care providers to offer social support and bring some community to the prenatal care experience."

Inform the care you provide with real-life experiences, because "this is a community issue," said Cain.

Encourage diversity in your organization's decision makers, leadership and boards.

Be intentional, and make this a key strategic priority supported by appropriate funds and resources.
Hospital Efforts
Because hospitals are the hub for 98% of births in the country, they are critical in improving maternal mental health outcomes. For our second panel discussion, we joined leaders from Zoma Foundation, Premier Inc., CommonSpirit Health, SCL Health and University of North Carolina Health to share how hospitals are using best practices for improving the quality of maternal health care.
Deb Kilday, principal of women and infant services at Premier Inc. shared emerging trends on maternal mental health, noting that maternal patients with documented mental health conditions significantly vary by race and age group, are more likely to undergo a Cesarean delivery, and are 1.5 times more likely to experience any severe maternal morbidity. Premier is leveraging data for its Human and Health Services Maternal Infant Collaborative to scientifically identify drivers of maternal infant mortality and morbidity and implement solutions. The AHA is collaborating with Premier and serves on the advisory panel of this collaborative.
Each hospital described their maternal mental health efforts, which varied based on the patients and communities served.
CommonSpirit Health engaged obstetrics providers, perinatal nursing staff, social workers, etc. in a screening program to capture the mental health conditions of pregnant and post-partum women. Over the past five years, this program provided mental health training to providers, and connected patients with identified risk of depression and anxiety with a social worker to assess their condition.
For its next rollout by June 2022, "a total of CommonSpirit Health's 68 hospitals across 13 states with over 85,000 births per year will be screening postpartum patients, and we will be examining our data with a health equity lens," shared Jennie Torti, system director of perinatal behavioral health.
The integrated maternal mental health initiative at SCL Health administers a universal mental health screening during and after pregnancy – in both inpatient and outpatient settings, and offers treatment and referral interventions through its Bloom Perinatal Behavioral Health program. Patients are connected with community behavioral health providers to ensure their assessment aligns with their needs. In 2021, SCL Health screened 11,000 women.

To get buy-in and create a culture shift, "We individualize and customize our program within different units to not disrupt the current workflow and create more burden. We regularly shared data on outcomes and anecdotal patient stories to show we were moving the mark," shared Heather Hagenson, director of operations and business development.


UNC Health established its own perinatal psychiatry inpatient unit, a model that is one of only three in the country. In this five-bed unit, women undergoing treatment for their mental illness are allowed time to build a relationship with their baby during their stay. However there are liability and coverage challenges with this model, noted Riah Patterson, M.D., medical director of the unit – making it harder for many hospitals to adopt.
Summary
Throughout our experience at the forum, it became evident some key elements are needed to make sustainable change in maternal mental health outcomes.
First, it is impossible to holistically improve maternal mental health without digging deep into the disparities that exist within our society. These disparities, when collected and identified, can drive substantial change in increasing access to care, improving policies and procedures, and even creating a culture shift within the workforce and ourselves.
Second, timely screening and assessing of mental health conditions, undisruptive integration of mental health care in the care continuum, sharing outcomes to get leadership buy-in, all are necessary components in addressing maternal mental health, but we also need standardized processes for referrals and follow-ups, diverse and trained staff, and partnerships with community resources to meet the needs of those impacted by mental health. View AHA's infographic on keys elements for a successful maternal mental health program.
Lastly, when we work on improving maternal health outcomes for Black moms, we naturally improve outcomes for all women.
However, like anything else in the health care system, we have to collaborate within and outside clinical walls to build that constellation of awareness and support for the mental well-being of moms and their families.
Priya Bathija, J.D., MHSA, serves as AHA's vice president of strategic initiatives. Aisha Syeda, MPH, serves as program manager of strategic initiatives at the AHA.