ASHRM23 to Gather Professionals Across the Field to Share the Latest Strategies and Advancements in Risk Management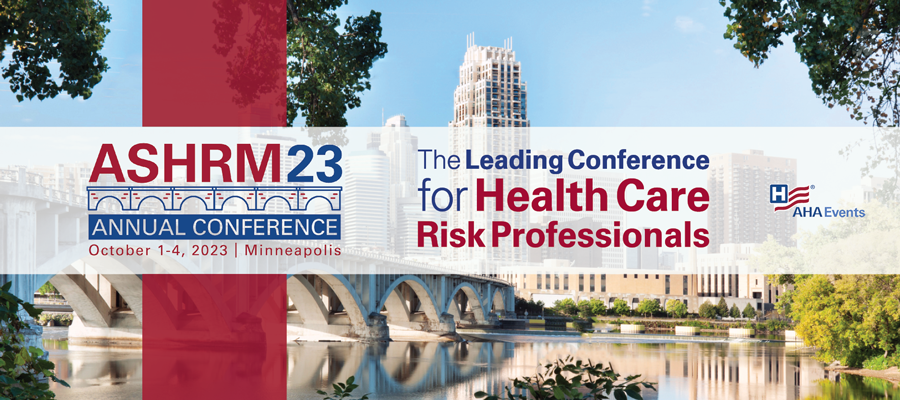 The American Society for Health Care Risk Management will host the ASHRM23 Annual Conference Oct. 1-4 in Minneapolis. This conference brings together professionals from across the health care risk management sector. It also contributes to collaboration, professional development and growth within the risk management field. Professionals can stay current on the latest laws and technological advances and seek critical information. This premier event also allows professionals to approach problems and concerns in ways that can alleviate financial strain on enterprises, create efficiency and establish best practices. 
Risk management experts work in various capacities to mitigate risk and ensure enterprise-wide health, business continuity and ongoing compliance. Professionals in this field must understand risk management's changing and complex nature, including evolving laws and legislative mandates and changes to insurance policies, clinical practices and procedures. 
A risk management team must also monitor and assess current processes within health care enterprises to safeguard the well-being of staff, stakeholders and patients. Many of these professionals possess wide-ranging credentials and come from various professions, including law, nursing, health care administration, insurance and other areas of medicine.
Risk management professionals are most effective when they exchange ideas and utilize new strategies and solutions from others across the sector. These collaborative engagements require a mix of ingenuity, passion, and dedication. This was most apparent during the pandemic, when many professionals created ongoing cooperative opportunities to increase and safeguard enterprises and patients. These opportunities addressed new and challenging issues, including preventing and combatting infection, crafting innovative spaces for the infected to receive care, assessing current practices in light of emerging data and ensuring health-based programs' continued growth and compliance.   
The AHA supports ASHRM's initiatives and assists professionals in their goals of creating sound practices for safer organizations and enterprises. The many risk management professionals who work tirelessly to ensure compliance are critical to how health care environments are structured and operated. With their efforts, health care facilities and other organizations can streamline processes, create greater accountability and transparency, and follow standardized goals to meet legal mandates.
ASHRM's annual conference supports these efforts and is dedicated to bringing together risk management professionals to share ways to advance the field, while making health care organizations safer, better and more productive. Find out how you can support ASHRM's annual conference and ongoing collaborative goals by visiting ASHRM.org.