Chairman's File: In conversation with health care's leaders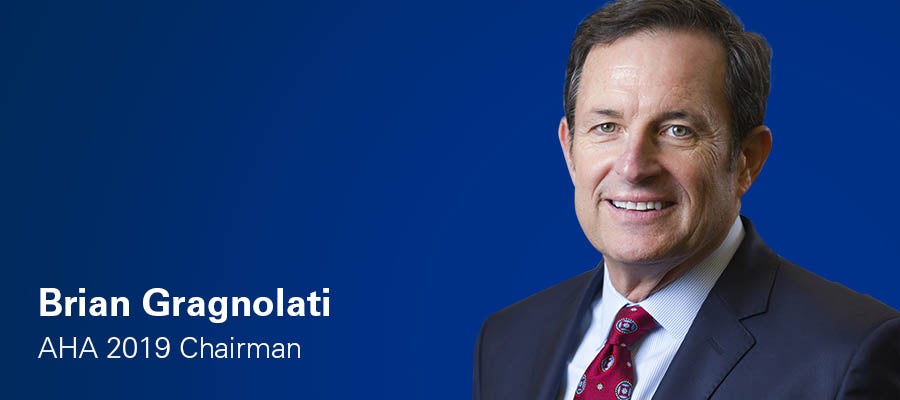 The AHA leverages the nation's leading platforms to share the story of how hospitals and health systems are advancing health in America.
Few forums are more influential than Aspen Ideas: Health (June 20-23), opening the 2019 Aspen Ideas Festival, "where health care's biggest challenges meet its biggest thinkers." This unique environment draws attendees from around the world for three days of panels, presentations and conversations on cutting-edge health issues.
Once again, the AHA has a seat at the table in Aspen. A small delegation of our leaders will attend to ensure key stakeholders — journalists, policymakers, academics and entrepreneurs — understand how hospitals and health systems are driving change to build healthier communities.
Highlights of our participation include:
"Healthcare without an Address," examining how telemedicine and other innovations are improving affordability, consumer choice, outcomes and experience. I look forward to joining John Haupert, president and CEO, Grady Health System, and Saum Sutaria, COO, Tenet Healthcare, on this AHA-sponsored panel moderated by Executive Vice President and Chief Operating Officer Maryjane Wurth.

A lunchtime roundtable to explore workforce resiliency and clinical burnout hosted by Mindy Estes, M.D., president and CEO, Saint Luke's Health System and AHA chair-elect, and Jay Bhatt, D.O., AHA senior vice president and chief medical officer.

We'll also join BlueCross Blue Shield Association to discuss how providers and payers are addressing social determinants of health.
Aspen Ideas: Health is a hub for big ideas and new connections. We look forward to sharing all the details with you in AHA Today next week.