Chairman's File: AHA Leadership Summit preview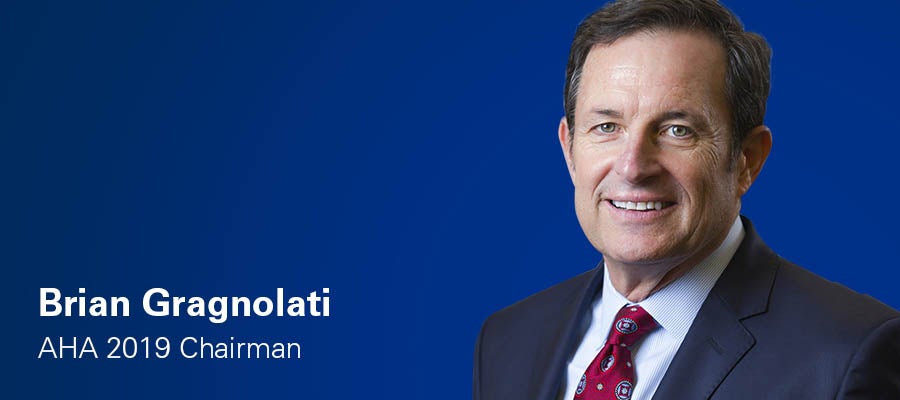 It's said that great minds think alike but, in the health care field, we know that patients and caregivers alike benefit from diversity of thought. Many sharp minds with differing opinions will convene at AHA's Leadership Summit in San Diego (July 25-27), providing a wealth of perspectives I urge you not to miss.

The theme for this year's meeting — Lead/Connect/Transform — will shine a spotlight on strategies for delivering greater value through operational excellence, successful partnerships and redefined delivery models. Through workshops, roundtables and keynotes, senior hospital and health system leaders and clinicians will make meaningful connections with peers in the expanding health care ecosystem.
AHA's Leadership Summit will deliver a speaker and topic to engage everyone, from trustee to clinician to CEO. Keynote speakers include Linda Bernardi, former IBM chief innovation officer and a strong believer in the positive impact of disruptive technologies, and Gene Krantz and Captain Jim Lovell, the flight director and NASA commander who safely piloted malfunctioning Apollo 13 back to earth.
The 2019 Summit agenda will focus on six critical areas:
Achieving Affordability and Value through New Payment and Delivery Models
Quality and Performance Improvement
Advancing Health through Community Partnerships
Transformational Leadership and Workforce Development
Creating a Culture of Innovation
Governance Excellence
The meeting also launches the inaugural AHA Leadership Summit Startup Competition, giving six new companies the chance to showcase their practical innovations before our influential audience.
Three busy and exciting days, packed with insights, information and enthusiasm for advancing health. Register here and I'll see you there.