Chair File: Leadership Rounds — Talking Pandemic Preparedness and Equitable Care with NYU Langone Health Chief Medical Officer Fritz Francois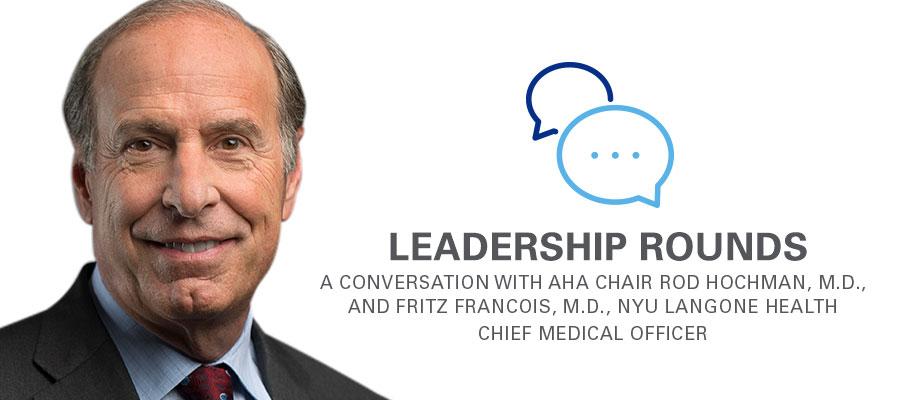 On this episode, I discuss emergency preparedness, caregiver resiliency and health equity — all through the lens of the COVID-19 pandemic — with Fritz Francois, M.D., chief medical officer and patient safety officer at New York University Langone Health and a professor at NYU Grossman School of Medicine.
Teams at NYU Langone Health are no strangers to public health emergencies in New York City, having experienced 9/11, Hurricane Sandy, a fire on campus and now the pandemic. In addition, Dr. Francois has led health care teams to Haiti, his birthplace, to care for and support Haitians after recent earthquakes.
During our conversation, we explored the "Five T's" of emergency preparedness and delivering quality care during a pandemic. We also covered how the health system has long engaged with the community to ensure equitable care, which is helping address COVID-19 vaccine hesitancy with some populations.
Dr. Francois has some incredible stories of how NYU Langone prepared for the early days of the pandemic and how they adjusted as every hospital floor filled with COVID-19 patients. He talks about the many layers of caring for patients and families, maintaining adequate supplies and prioritizing employees' health and well-being. I love how they celebrate "wins" — such as special patient discharges and sharing notes of gratitude sent by families to employees.
Watch the episode here.
---
Listen to the podcast on SoundCloud.
---
Look for more of my conversations on trending topics with health care leaders from around the country, released as part of the Chair File.
Rod Hochman, M.D.
AHA Chair