Chair File: Protecting Each Other and Keeping Our Communities Healthy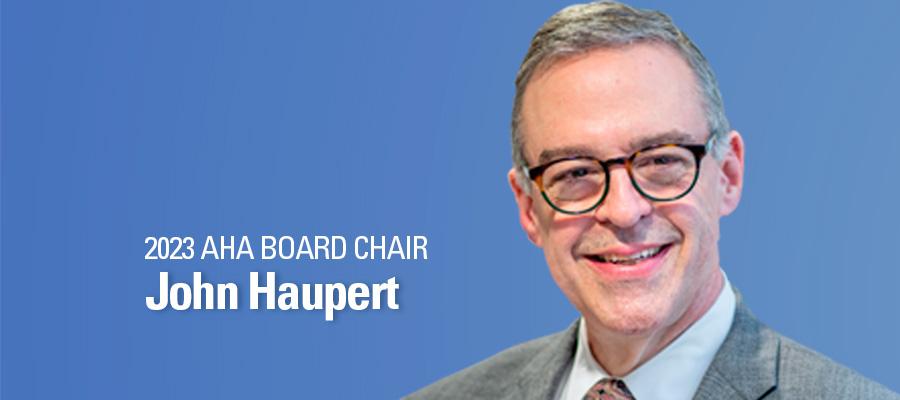 Once October starts, many of us think "autumn" and also "flu season." Time to get a flu shot — and a COVID-19 and RSV vaccine too.
For the first time, health care providers have vaccines to help prevent serious illness and reduce complications from all three of these viruses. A vaccine to protect babies, toddlers and older adults against respiratory syncytial virus (RSV) is the newest immunization recommended by the Centers for Disease Control and Prevention.
The AHA has excellent resources to help hospital and health system teams encourage patients and people in their communities to get vaccinated. Check out the United Against the Flu campaign resources as well as COVID-19 vaccine confidence content. You'll find facts and figures along with downloadable graphics to share on social media channels.
I know many of your teams have put together creative campaigns to promote vaccination. Here at Grady, we have a very robust digital campaign to encourage vaccines. We also are featuring several of our providers on our social media channels to tout the importance of vaccination.
As October began, the AHA also completed a three-year partnership with the CDC that focused on sharing with hospitals and health systems the most up-to-date information and developments on COVID-19 and vaccines as the pandemic evolved. This partnership produced a host of useful resources, which you can access on AHA's Updates and Resources on Novel Coronavirus (COVID-19/SARS-CoV-2) webpage.
We know that vaccines are important defenses to protect people against seasonal viruses and guard against potentially severe consequences including hospitalization and death. Let's do all we can to ensure our patients and communities stay healthy as we close out the year.