Leadership, transformation, affordability and value: Special coverage from the 2019 AHA Rural Health Care Leadership Conference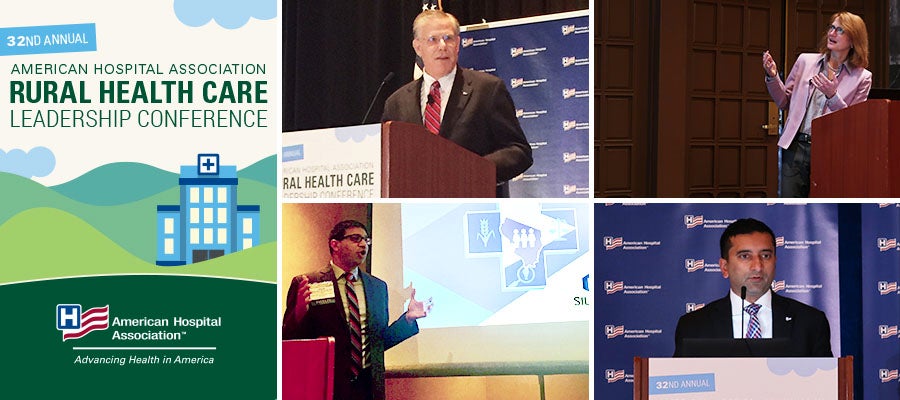 Read additional coverage from day two and day three of the conference.
AHA Chairman on Importance of Rural Health Care.
AHA Board Chairman Brian Gragnolati today kicked off the AHA Rural Health Care Leadership Conference by welcoming more than 900 rural hospital and health system leaders and trustees. Gragnolati highlighted AHA's new report outlining the challenges affecting rural communities and opportunities to ensure access to high-quality affordable care. He also urged the health care leaders to embrace change, use innovation to their advantage, focus on improving the value of care, and include community partners in the discussions. "We have to make changes, both in federal policy and within our own hospitals and health systems, to ensure we not only keep our doors open, but lead our communities into the future," Gragnolati said.
AHA Rural Hospital Leadership Award
Gragnolati presented the AHA Rural Hospital Leadership Award to Ronald ("Ronnie") Sloan, president of The Outer Banks Hospital, a 21-bed critical access hospital in Nags Head, N.C. The award recognizes small or rural hospital leaders who guide their organization and community through transformational change and display outstanding leadership and commitment to improving health and health coverage and making care more affordable. "Ronnie, your enduring commitment to The Outer Banks Hospital and your initiatives with partners at the state, county and local level is an inspiration," Gragnolati said.
Cultivating Powerful Partnerships between Governance and Leadership
Gragnolati also facilitated a discussion with Lou Hochheiser, M.D., former CEO, St. John's Medical Center in Jackson, Wyo., about the importance of building strong relationships between hospital leadership and the board of trustees. Hochheiser described how as CEO he worked with his elected board to bring stability to local health care in a community where the population could swell based on the season. "You really have to get to know the people you work with," he said. "That doesn't mean going to board meetings; that means getting to know them one-on-one as people, what interests them ... Then I think you can have much more intelligent conversations."
Improving Affordability and Promoting Value
A panel of health care leaders including AHA Board member Peter Wright, president and CEO of Valley Regional Healthcare in Claremont, N.H.; AHA Board member Michelle Hood, president and CEO of Northern Light Health in Brewer, Maine; and Reshma Gupta, M.D., medical director for quality and value at UCLA Health's office of population health and accountable care discussed potential solutions that will allow rural hospitals to decrease costs and improve quality and patient experience. "As a small rural hospital, we think we can't tackle bigger issues, but the reality is, we can," Wright said.
Hood spoke about how rural hospitals have opportunities related to population health and addressing the social determinants of health. "Social determinants of health need to come into the board room for discussion, and they're discussions we shouldn't have by ourselves; we need to be having them with other stakeholders in the community and patients themselves," she said. "That's a powerful approach to population health that rurals can do better than anyone else."
Priya Bathija, vice president of the AHA Value Initiative, moderated the panel.
Innovation Challenge Launched
The AHA today launched the 2019 Innovation Challenge – a juried award program to source and spread innovative technological approaches that address social determinants of health. Teams from AHA member hospitals and health systems can apply for the awards by submitting an entry about an early-stage program designed to address one or more social determinants of health, which include food, housing, transportation and other factors. "Failure to acknowledge, and more importantly, to address these social factors with the latest thinking and newest technologies will hamper any effort to improve the health of the population," said AHA Senior Vice President and Chief Medical Officer Jay Bhatt, D.O., who announced the start of the challenge this afternoon. "I urge you to join us in this important effort." The top three proposals will receive $100,000, $25,000 and $15,000 to help bring their ideas to life. Submissions are open through May 24 and the winners will be announced at July's AHA Leadership Summit. The challenge is sponsored by First American Healthcare Finance.
Keynote Sessions on Leadership and Transformation
Gerald Hickson, M.D., senior vice president of quality, safety and risk prevention and Joseph Ross Chair of Medical Education and Administration at Vanderbilt University School of Medicine, discussed the essential role of leaders in addressing persistent behaviors that undermine team performance and patient safety. He described the critical infrastructure needed to support sustained accountability for individuals who fail to self-regulate and offered tactics for developing and implementing corrective action plans. Lance Secretan, award-winning author and leadership expert, explored how and why leaders are attracted to trendy ideas and the process by which these ideas then become mainstream. He shared examples of counterproductive business practices and proposed novel alternatives that lead to transformation and an inspiring organizational culture.
Strategy Sessions
A number of strategy sessions focused on models of affiliation that work for rural health care; personalizing the patient experience with consumer engagement platforms; preparing rural health care boards for change; emergency care quality improvement programs designed for rural hospitals; fighting the opioid epidemic through collaboration; diabetes self-management programs for rural communities; and a rural primary care clinic's successful response to the opioid epidemic.
Roundtable Discussions. Conference attendees participated in roundtable discussions on health equity and eliminating disparities in rural communities; mergers/affiliations and the role of the board; cultivating powerful partnerships between governance and leadership; advanced practice providers, their increase in use, and the challenges and opportunities; and disaster preparedness.
Watch AHA Today for more coverage from the conference and follow the action on social media using #RuralHealth.