Trump discusses health care affordability, HIV and childhood cancer at SOTU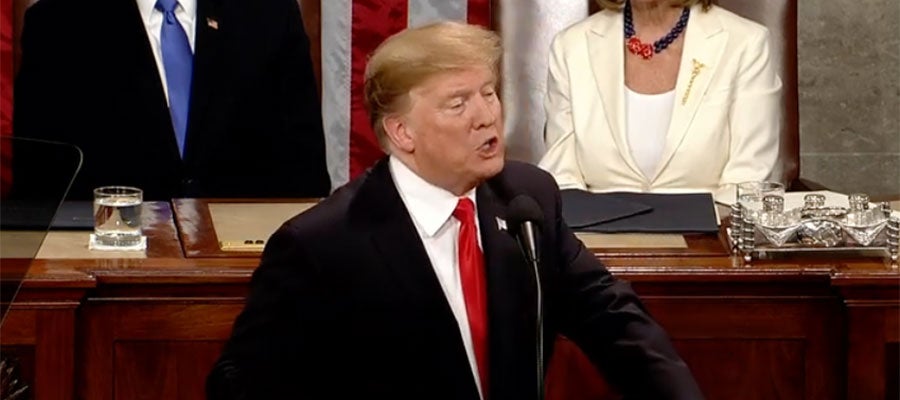 In his state of the union address last night, President Trump said lowering the cost of health care and prescription drugs and protecting patients with preexisting conditions were some of his major priorities. In addition, he said drug companies, insurance companies, and hospitals should be required "to disclose real prices to foster competition and bring costs down."

In a statement, AHA President and CEO Rick Pollack said hospitals and health systems are working to address health care affordability, but "to truly fix the broken system, all stakeholders including drug companies, insurers and providers need to step up to do right by patients. First and foremost, patients should never forgo care because of cost. That is why hospitals and health systems are redesigning the care delivery system to improve quality and value, offer new payment models and implement effective solutions that will reduce costs."

Pollack said the cost of care needs to be more affordable and transparent. "Hospitals are working with patients to understand their out-of-pocket costs, including providing information upfront on the cost of their care," he said. "This includes sharing what their financial responsibility will be, including what patients will pay out-of-pocket, and often times that information is only available from their insurer."

In addition, Pollack said drug companies "must do their part to address the prescription drug-spending crisis," and cited a recent report that found continued rising drug prices, as well as shortages for many critical medications, are disrupting patient care and forcing hospitals to delay infrastructure and staffing investments and identify alternative therapies.

During his address, Trump also said his budget will ask Congress:
To make the needed commitment to eliminate the HIV epidemic in the U.S. within 10 years.
For $500 million over the next 10 years to fund research to fight childhood cancer.