How Parkview Health is using mobile technology to fight the opioid crisis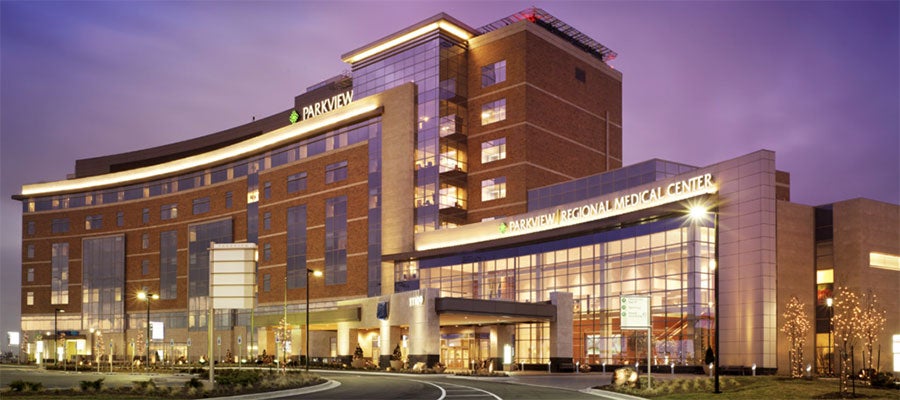 Parkview Health is working to develop a mobile app that would serve as an intervention for Indianans struggling with opioid-related substance use disorders. Parkview's project received first place in this year's AHA Innovation Challenge. Read more and watch a video.
Health care providers at Parkview Health in Fort Wayne, Ind., are struggling to keep up with the demand of patients presenting in the emergency department with substance use disorders.
The prevalence and frequency of opioid-related deaths is taking a toll on the communities losing loved ones, the clinicians who want to help, and the state's economy, which is spending more than $11 million daily and $4 billion each year on opioid misuse costs, according to a recent study by Indiana University. Allen County – the largest county Parkview serves – lost on average one person every three days to an opioid-related overdose in 2017.
That's why leaders at Parkview developed a project that blends peer coaching, and a mobile app to address the fragmented care opioid use disorder patients often receive in today's care delivery model. The project earned first place in this year's AHA Innovation Challenge.
"Their compelling, well-designed model builds on proven techniques that go beyond what is available in most communities today and ties it to health providers in practical ways," said AHA Chair-elect Brian Gragnolati, who presented Parkview with its $100,000 prize at July's AHA Leadership Summit.
AHA Innovation Challenge helps inspire creation of Parkview's on-demand support care model
Leaders at Parkview Health were already discussing how to intervene with patients, perhaps using some type of technology, to address this public health crisis when AHA announced its Innovation Challenge, said Connie Kerrigan, R.N., director of outreach at Parkview Behavioral Health.
Parkview Health was one of 91 organizations that submitted proposals for this year's challenge, the first.
Kerrigan acknowledged that having the time, resources, and buy-in from the top down to focus so intently on this project afforded Parkview the luxury of experimenting to create a technology-enabled, on-demand support care model to address addiction recovery in a vulnerable population.
For the project, Kerrigan enlisted the help of Tammy Toscos, a research scientist and informatics manager for Parkview Research Center, to better understand how Parkview could use technology to reach this population.
Parkview is discussing the idea of building a mobile app that patients will use to receive addiction recovery assistance in real time to boost recovery rates.
Enhancing the human connection
Parkview wanted its project to provide hands-on support that patients could easily access at all hours of the day. Toscos, who studies how technology can help people with health-related behaviors, was up to the challenge. She has helped Parkview determine how to capture the needs of this vulnerable population through a nuanced cell phone application.
"Needing the human connection is important in every chronic disease," Toscos said. "Technology offers the ability to fuel that connection with a physician, dietician, pharmacist or peer recovery coach."
The mobile app will put the user at the center and offer "help in your pocket," Kerrigan said, providing support at the point of decision making. When a patient is in urgent distress, they can connect with a peer coach, and a text interaction is initiated.
"This really changes the trajectory for individuals in recovery," Kerrigan said.
Peer recovery coaches offer patients support throughout the process
Parkview hired six full-time peer recovery coaches, who are passionate about recovery and may have lived through similar experiences. In addition, they assist with overcoming barriers to recovery and harm reduction. Kerrigan said that people often have misconceptions and believe that peer recovery specialists are therapists, sponsors or treatment providers, though they act as none of these.
"They have a completely different focus," Kerrigan said. "A coach isn't sponsoring or offering treatment; instead, they meet the patient where they are and support them in the development of a personal plan for recovery.
Kerrigan said that the peer recovery coaches have already produced a return on investment.
"Our ultimate goal is reducing stigma around mental health and addiction and supporting individuals and their families in reaching the recovery goals they have established," Kerrigan said. "We want people and their families to be able to live the life they deserve and without judgement."
Reducing stigma and restoring hope
Kerrigan said that the response from health care providers in the community has been tremendous. Clinical staff care about providing great care that is compassionate and supportive, and the addition of peer coaches supported by technology will make the task more manageable, according to Kerrigan. She emphasized the importance of preventing opioid overdoses by getting to the root of the problem and assuring that individuals have the resources needed to manage their health.
"There's such relief from health care providers," Kerrigan said. "They felt hopeless and overwhelmed."
Once Parkview launches the app, it is hopeful that it will significantly reduce the number of patients in the community who end up in the ED with substance use disorders.
Too often, people are ashamed to seek help, Kerrigan said. But she hopes the app's presence and prevalence will change that.
Toscos said, that in addition to patients, the program also helps providers, who often experience burnout at higher rates when treating people with addiction. By reducing stigma and bringing patients with substance abuse disorders in for treatment sooner, providers have the potential to save more lives before losing patients to overdose.
Parkview's path forward for treating patients with substance use disorder
Kerrigan said she is grateful that AHA's Innovation Challenge stimulated new ideas and creativity, and that Parkview supports investing in innovation and prevention models that start with community interventions and end up saving lives.
Toscos echoed the need for innovation.
"The simple stuff is not working," Toscos echoed. "We have to get aggressive and think outside the box. Without incentives like this competition, people don't always do that."