Five ways hospital and health system leaders can bring an entrepreneurial mentality to health care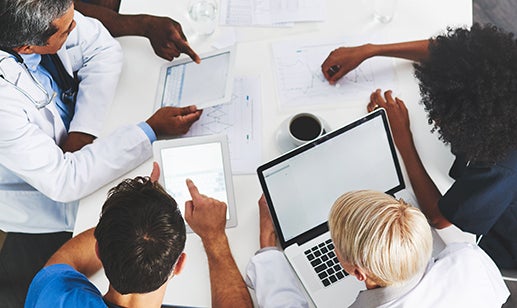 Hospital and health system leaders who want to bring an innovative mindset to their work can draw lessons from Nick Taranto, co-founder and chief strategy officer of Plated.com, a startup that has sold for $200 million and has changed the way people eat.
Taranto spoke at last month's AHA Executive Forum about his bumpy, but ultimately successful, journey in bringing Plated to fruition and said that leaders who want to bring entrepreneurial thinking into large organizations must first embrace the following:
1. Grit
"Winston Churchill said, "never, never, never, never, never, never, ever give up." That really felt like the life we were living [at Plated]. Every day it was something. It was just about persevering and never giving up," Taranto said.
2. Vision
"Having [a] vision, being able to articulate it and bring people along for the ride was really in many ways the starting block for building strategy, for building [objectives and key results], and for incentivizing people right away," Taranto said. "I find this piece of the puzzle is [often] missing [in other organizations] and it's much harder to construct the rest of your architecture when you don't have this in place."
3. Risk
"Taking risk goes hand in hand with innovation," Taranto said. "If you're not taking risk, chances are you're not innovating. Part of taking risk and part of innovating is failing and building a culture that's OK with that. Don't make the same mistakes twice, but taking risks, pushing the vanguard, that's how you innovate."
4. Agility
"Another hallmark of building companies today is agility. Deputizing small teams that can move quickly, that can build their own strategies, set up their own metrics and can go execute without having to go through hoops and hurdles to get approval [is key]," Taranto said.
5. Customer obsession
"You're not a business if you're not profitable; if you're not hitting your numbers. But [for a period of time] we got pulled away with what we prided ourselves on: being obsessed with our customer, really understanding them, where they needed us, where they shopped, when, how," Taranto said. "That impacted our entire product strategy. If you can unlock that, this is part of why Amazon does such an incredible job."
Focusing on consumerism in this way can be a valuable business strategy for health care, said Sam Glick, partner at Oliver Wyman, especially when it comes to trying to pass financial savings on to patients.
"One of the challenges that we have in health care is, we think a lot about system affordability, which is not always the same as individual affordability," Glick said after Taranto's talk.
Glick urged attendees to consider how they will continue to redefine themselves and create value as the field continues to change. He cited Oliver Wyman data that showed consumers' main health concerns are getting enough sleep, getting enough exercise, eating well, managing high stress and paying for health care.
"Does this look like the top five things we talk about at the executive table?" Glick asked.
Plated's special sauce is its functionality, its emotional appeal and its consumer value, Glick said. Health care also can find usefulness in that same formula and should begin by solving problems for individuals, as Plated did by designing meal kits for busy people who wanted to cook, he said.
"We in health care start with 'what clinical problem am I solving, what reimbursement problem am I solving?' Less often do we say, 'is it a hassle for somebody who walks through our doors and what am I doing to address it?,'" Glick said.