Discussions on innovation, value highlight AHA executive forum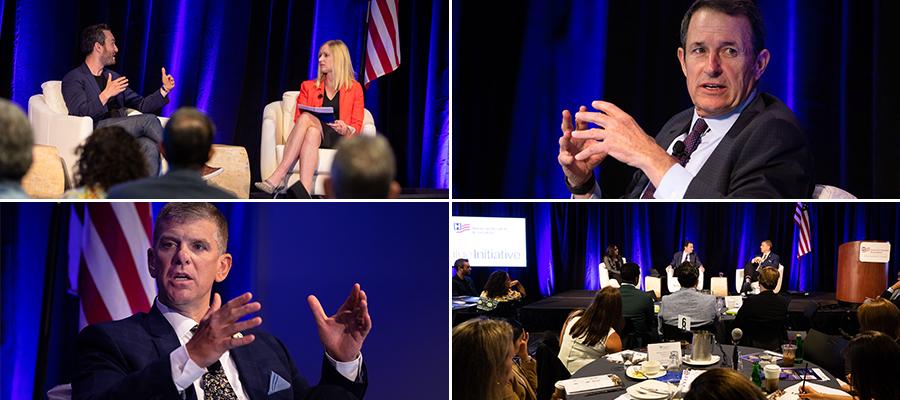 Pictured, clockwise from top left: Elliot Cohen, co-founder/chief product officer, PillPack and Lindsey Dunn Burgstahler, vice president, Programming & Intelligence, AHA's Center for Health Innovation; Brian Gragnolati, AHA chairman; Peter J. Wright, president of Bridgton and Rumford Hospitals, Central Maine Healthcare; and opening comments with Priya Bathija, vice president, AHA's The Value Initiative (left) Gragnolati (center) and Wright.
Hospital and health system leaders today joined other health care stakeholders at an AHA executive forum in Boston to discuss the many ways they are innovating to enhance value and address new entrants to the health care field.

Speakers explored how organizations both within and outside of health care are enhancing value through collaboration.

"Most folks are not trying to disrupt, most folks are trying to help," said AHA Chairman Brian Gragnolati, president and CEO of Atlantic Health System in New Jersey. Instead of disruption, he said we should look at it as "how can we help our patients in a different way. If we as health care organizations view this as disruption or scary stuff, I think we're going to miss an opportunity to partner."

Among other topics, panelists discussed how to leverage design innovation to improve clinical performance and enhance the patient experience; how to reimagine care delivery through telemedicine; and how to drive value by addressing the social determinants of health.

Gragnolati moderated a panel with leaders from the OpenNotes project, which helps patients gain access to detailed clinical notes related to their care. The project started with a pilot in three organizations and has grown to more than 200 organizations in all 50 states, giving more than 38 million people access to their health information.

In addition to hospital and health system leaders, the forum featured speakers from other areas of health care and community organizations. Elliot Cohen, co-founder/chief product officer of PillPack, shared insight into how consumer experiences drive innovation and improve value. PillPack, whose founders started the online pharmacy after winning an MIT hackathon, was recently acquired by Amazon.

"The goal is to meet the customer where they are," Cohen said. "We create as many touchpoints for the consumer to reach us as possible."

The forum was sponsored by AHA's The Value Initiative, which provides hospital and health system leaders with education, resources and tools to advance affordable health care and value in their communities.

AHA Senior Vice President and Chief Medical Officer Jay Bhatt, D.O., and Priya Bathija, vice president of The Value Initiative, also presented at the forum. Watch for more insights and learnings.