California hospital names new CEO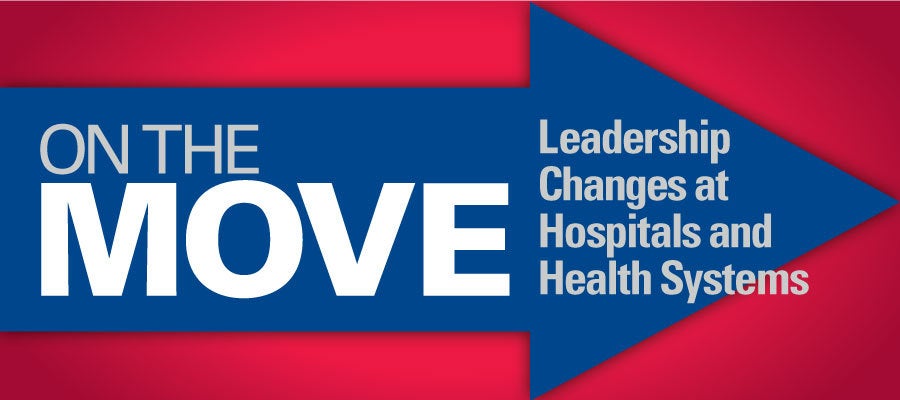 California hospital names new CEO
Doctors Hospital of Manteca (Calif.), part of Dallas-based Tenet Healthcare, has named Murali Naidu, M.D., CEO effective Feb. 24. He currently serves as the chief physician executive at Managed Care Systems out of Bakersfield, Calif.
Bronson Healthcare names CEO
Kalamazoo, Mich.-based Bronson Healthcare has named Bill Manns president and CEO effective March 30. He currently serves as president of St. Joseph Mercy Ann Arbor, a 537-bed tertiary care and academic medical center, and St. Joseph Mercy Livingston, a 136-bed community hospital in Howell. Both hospitals are part of Trinity Health Michigan.
Georgia hospital names CEO
St. Francis Hospital in Columbus, Ga., has named Melody Trimble CEO effective Feb. 10. She most recently served in a dual role as CEO of Johnson City Medical Center in Johnson City, Tenn., and as vice president for Mountain States Health Alliance's Washington County division.
Florida hospital names COO
Regional Medical Center Bayonet Point in Hudson, Fla., part of HCA's West Florida Division, has named Paige Laughlin COO. She currently serves as the vice president of operations, ethics and compliance officer and chief staffing officer at Sunrise Hospital in Las Vegas.
Kindred Healthcare names new COO
Louisville, Ky.-based Kindred Healthcare has selected Jason Zachariah as COO. He joined Kindred in 2006 and was appointed COO of Kindred Hospital Rehabilitation Services in July 2013. In August 2016, he was appointed president of Kindred Rehabilitation Services. He will continue to serve in that role.