Advancing Health in America Is a Bipartisan Goal We Can All Get Behind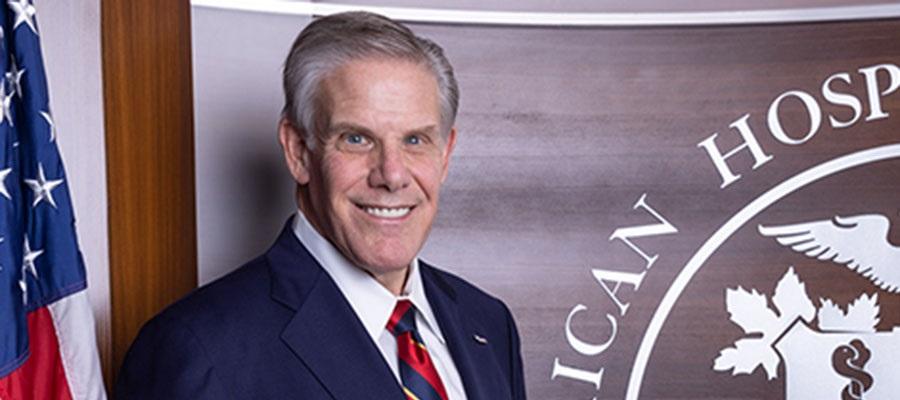 The convening of the 118th Congress this week is a reminder of Washington's highly-charged political environment.
The once-in-a-century floor tussle over the Republicans' selection for Speaker of the House; the narrow Democratic majority in the Senate and slim GOP majority in the House; and the specter of the 2024 presidential election looming over everything all point to a challenging period ahead.
But we also know our country – and our nation's hospitals and health systems – are facing significant challenges that will require bipartisan compromise and bold action.
Preserving the ability of hospitals and health systems to continue to advance health for individuals and communities is not a Republican issue or a Democratic issue. It is an American issue that transcends party politics. And that's why the AHA will continue to approach and frame all of our initiatives in a manner that can gain bipartisan support.
In fact, thanks in large part to hospital leaders' efforts to share their stories, many members of both parties have already shown their recognition of the immense pressure America's hospitals, health systems and caregivers are facing.
Just a few weeks ago, Congress passed and President Biden signed legislation that prevented massive new Medicare cuts, mitigated physician payment reductions, extended critical regulatory flexibilities provided under the Public Health Emergency for telehealth and the Acute Hospital Care at Home program, extended vital rural health programs, improved access to behavioral health, and put into place a practical glide-path for dealing with Medicaid – that protects historically marginalized populations – as we approach the expected end of the PHE, among other provisions. See our detailed summary of provisions included in the legislation.
While we were pleased to secure some very important provisions, we recognize this is just a part of what needs to be done to support hospitals and those on the front lines caring for patients.
Hospitals and health systems just concluded the most difficult financial year since the start of the pandemic. These financial struggles are expected to continue this year as the field continues to experience exorbitant increases for the costs of caring for patients, including labor, drugs and supplies.
This year, the AHA will work with Congress – including the seven new senators and 75 new representatives – and the Administration in a bipartisan manner to educate them on the challenges facing the field and enact provisions that have bipartisan support to advance health for patients and communities. Be certain, we will be working to educate these new legislators and you can also play a role in doing that. Starting later this month, we'll be offering new tools and resources that can assist you in your advocacy efforts with your lawmakers, including tips on engagement and outreach to enhance your relationships.
We will work to:
Establish a temporary per-diem payment targeted to hospitals to address the issue of hospitals not being able to discharge patients to post-acute care or behavioral facilities because of staffing shortages.

Create a designation for metropolitan anchor hospitals that assist hospitals that have extremely high volumes of Medicare, Medicaid and uninsured patients and typically serve historically marginalized communities.

Examine the method of updating Medicare payment rates through the market basket when the cost of caring or input prices hospitals are forced to absorb outstrip annual adjustments.

Protect the 340B drug pricing program.

Strengthen the workforce, including protecting health care workers from violence and increasing the talent pipeline for the future.

Relieve the field of unnecessary regulatory and other administrative burdens and hold commercial health plans accountable for policies that compromise patient safety and add burden to care providers.
These are only a few of our priorities for 2023. We're continuing to work on our short-term agenda for financial relief with the AHA Board of Trustees, and state and metropolitan hospital associations. Watch for our detailed 2023 Advocacy Agenda later this month.
At the same time, our Board of Trustees also will be focusing on the long-term strategies necessary to secure our future. These require innovative, bold and creative solutions to ensure that hospitals remain key players in delivering care in their communities not only for today but for tomorrow too.
America needs strong hospitals and health systems so we can have healthy and thriving communities. We must do everything we can to support our caregivers and ensure that the care will always be there.