The Value of Membership: Redefining The "A" To Meet Your Needs
We also are taking steps to strengthen our field engagement with new and innovative ways to engage the membership in the life of the association.
---
Evolving Communications & Digital Offerings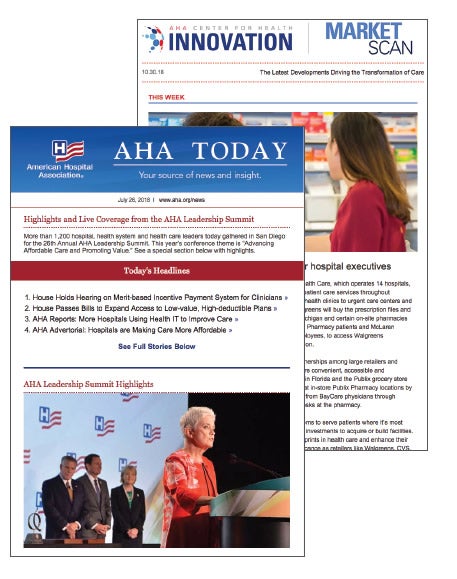 AHA Today, our flagship e-newsletter, brings you the news, insights and resources you need six days a week directly to your inbox. For the latest, visit www.aha.org/news.
AHA Market Scan, the new weekly e-newsletter from the AHA Center for Health Innovation, brings you the latest intelligence on developments involving health care disruption and health system transformation. For more insights, visit www.aha.org/center.
The Presentation Center on the newly revamped www.AHA.org allows you to download customizable slide presentations, talking points and background materials on some of the hottest topics in health care.
And more is in store in 2019, including greater personalization and more mobile-friendly ways to get the information you need on the go, including new subscribable podcasts and apps.
Enhanced Member Benefits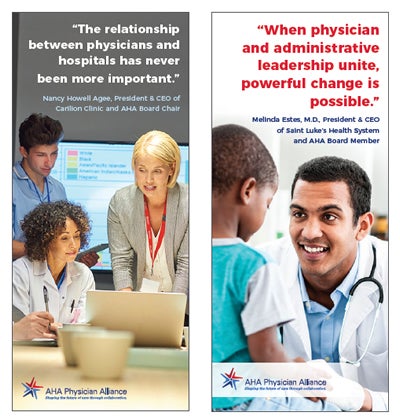 The Institute for Diversity in Health Management has become the Institute for Diversity and Health Equity in recognition of our commitment to the broader demand for both increasing diversity in leadership and advancing health equity leadership. Institute membership is now part of your AHA membership rather than a separate engagement. For more, visit www.diversityconnection.org.
The reconstituted AHA Physician Alliance aims to strengthen the voice of physician leaders in health policy and practice while helping them strengthen resilience:
Lead Well focuses on improving the health of the enterprise and developing the collaborative teams to move organizations forward.
Be Well is about improving the health of clinicians and reducing regulatory burden.
Care Well prioritizes better health for patients and communities, connecting physicians with quality improvement and population health work across the AHA.
For more, visit www.aha.org/physicians.
Our new Trustee Services division continues to expand with a monthly, multimedia package providing resources and education designed specifically for this important audience on both governance topics and the forces affecting health care. For more visit www.aha.org/Trustees.
We've enhanced our capabilities to bring you the data and insights you need, at your fingertips. In addition, AHA Guide and AHA Hospital Statistics have gone digital, providing access to the latest information from anywhere and allowing you to update your information in real time. Be sure to log in at console.aha.org to access these tools.
Exceptional Educational Offerings
The AHA Annual Membership Meeting is the premier hospital advocacy event of the year, bringing members together with leaders in the fields of politics, health policy and media to focus on the issues affecting the field today and the opportunities of tomorrow.
Our American Organization of Nurse Executives and Professional Membership Groups offer world-class professional development to thousands of health care leaders annually through widely-attended conferences, webinars, online courses, toolkits and more.
The AHA Leadership Summit offers leaders, clinicians and emerging leaders the opportunity to share and learn creative insights for transforming care and the patient experience and innovating the next generation of health care transformation.
Our webinars and podcasts bring you updates on the latest in advocacy and policy from Washington, D.C., as well as best practices in the field and emerging innovations.

The AHA Rural Health Care Leadership Conference brings rural hospital leaders and boards together to share strategies and resources for accelerating the shift to a more integrated and sustainable rural health system. For more, visit www.aha.org/calendar.
And that's not all. A taskforce of the AHA Board of Trustees has been working in 2018 on the next-generation of member engagement. Watch for more as it completes its work and we begin to roll out new offerings in early 2019. For more, visit www.aha.org/value.