Advocacy and Representation
Every day, AHA seeks to ensure that the needs and concerns of patients and the nation's hospitals and health systems are heard and addressed by lawmakers and regulators, in the courts and in the media.
---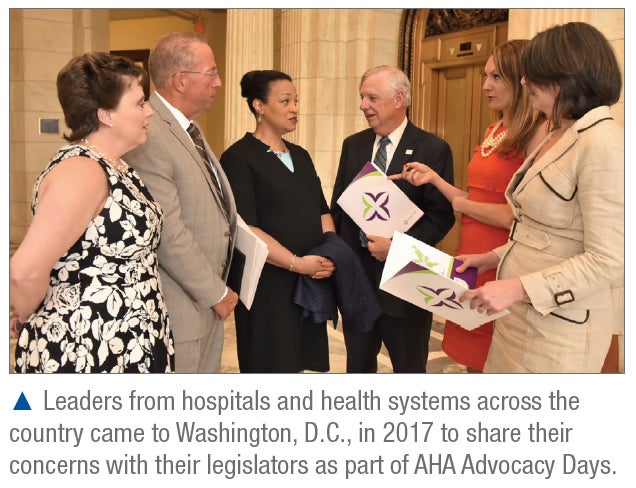 Your Grassroots Advocacy Played a Key Role In Ensuring Patients Were Protected. As Congress began to consider legislation to repeal and replace the Affordable Care Act, our grassroots network sprang into action to ensure legislators understood the impact changes to funding for health coverage and health coverage protections could have on patients and care in their communities.
Working with our partners at the state, regional and metropolitan hospital associations, we brought delegations of members to Washington, D.C., to share the potential real-life impact with their legislators.
---
Providing Resources to Equip You to Advocate. Through AHA Advocacy Days, special webcasts, alerts and podcasts, we kept you informed of the latest developments on Capitol Hill.
Our data alerts modeling the impact of proposed legislation helped arm you with the information you needed to reach out to your legislators. In addition, our digital toolkits made it easy for you to engage your trustees and employees to support efforts and amplify our message.
---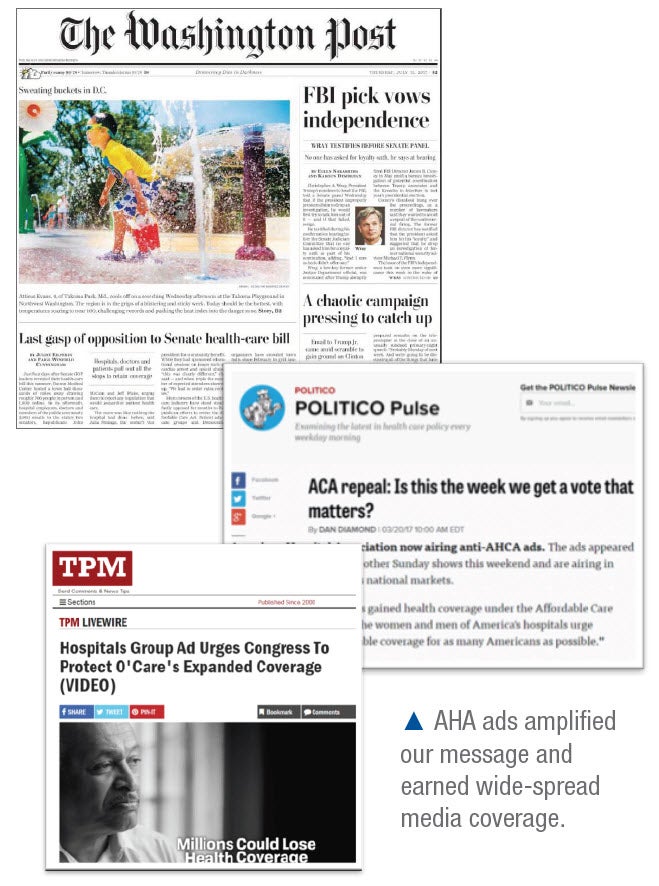 Sharing Our Story Widely and Working with Others, We Drove a National Conversation. With other stakeholders – including the other national hospital associations  and health provider organizations, consumer advocates and veterans groups – we drove a national conversation about the potential negative effect of coverage losses on already vulnerable groups, while a national media campaign featuring traditional television and digital advertising, reinforced our concerns and urged viewers to take action and contact their legislators.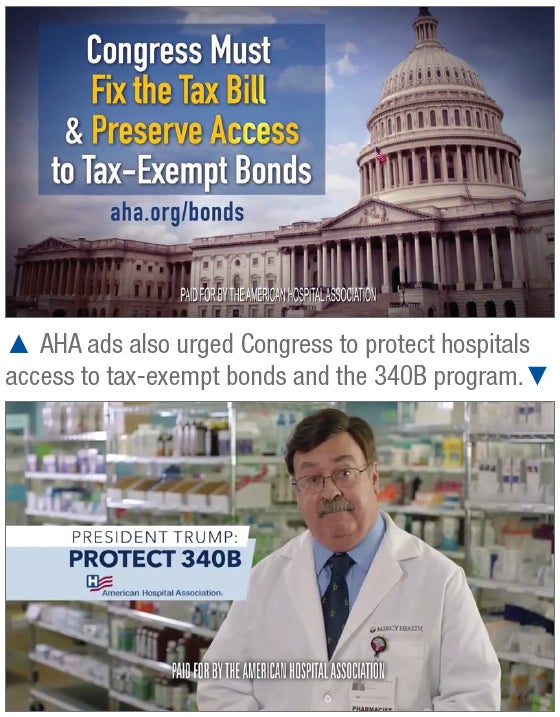 At the same time, through a sustained "grass-tops" effort, we engaged opinion leaders and policy influencers in key states, who in turn shared their concerns in op-eds in local newspapers, on social media and with the national media. In addition, AHA conducted media campaigns to share hospitals' and health systems' concerns on key issues such as proposed changes to hospital access to tax-exempt financing in the tax reform bill and proposals to make harmful changes to the 340B program.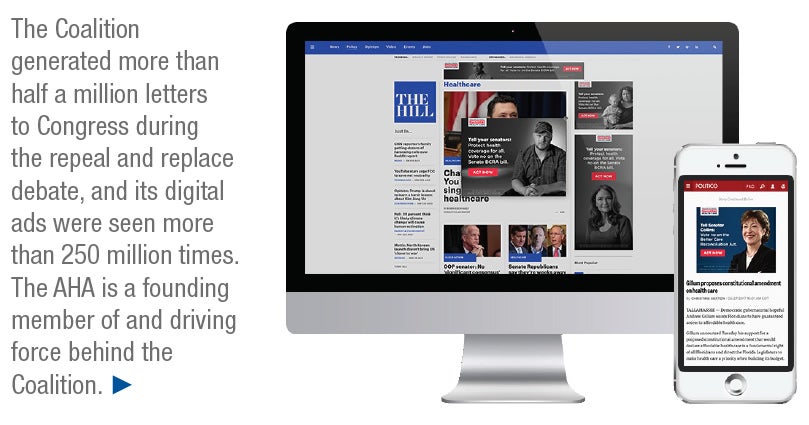 ---
Advertising and Digital Media Expanded Our Reach and Engaged Others. Our campaign was backed up by the Coalition to Protect America's Health Care, an online community of more than 1.6 million people who recognize the important role hospitals play in communities all over America and advocate on their behalf to elected officials in Washington, who too-often put funding for critical patient care on the chopping block.
 
---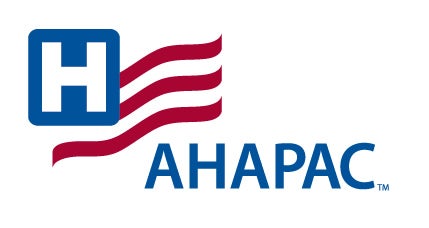 AHAPAC. The AHA Political Action Committee (AHAPAC) is a key piece of the AHA advocacy program, providing unified political visibility for the entire hospital field. AHAPAC strategies are developed with the state hospital associations and seek to support federal candidates of both political parties who support the hospital policy agenda.  AHAPAC will raise more than $4 million for the 2018 elections, ranking as one of the largest health care association PACs in America.
---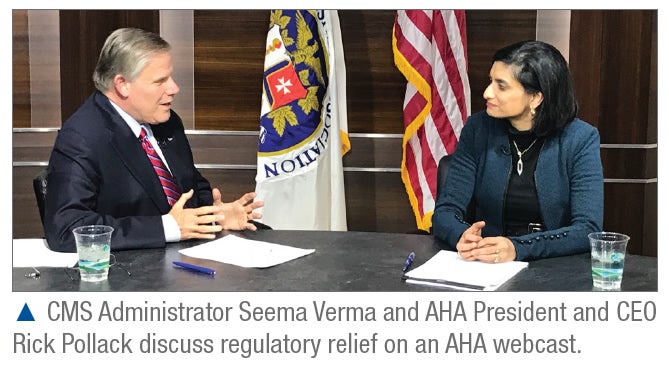 Making Progress on Regulatory Relief. The volume of regulations and the scope of change required to meet them are outstripping the hospital field's ability to absorb them. Fortunately, there has been growing recognition of this fact from the Administration and Congress.
The Centers for Medicare & Medicaid Services (CMS) this year provided important relief, such as implementing a 12-month moratorium on the outdated long-term care hospital 25% Rule, calling for a 90-day reporting period – versus a year – to meet the requirements of the meaningful use program for 2018 and making compliance with Stage 3 optional for 2018, and hitting the pause button on the onerous home health pre-claim review demonstration projects, among other examples.
A recent AHA report found that an average-sized community hospital spends nearly $7.6 million annually to support compliance with regulations covering non-patient care areas. Furthermore, it dedicates nearly 60 staff members to regulatory compliance – more than one-quarter of which are physicians and nurses. We shared these findings with CMS at a stakeholder session where Administrator Seema Verma formally launched the agency's regulatory relief effort.