Becoming a Culturally Competent Health Care Organization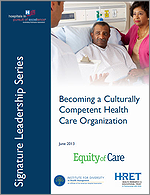 Cultural competency in health care describes the ability of systems to provide care to patients with diverse values, beliefs and behaviors, including the tailoring of health care delivery to meet patients' social, cultural and linguistic needs. A culturally competent health care system is one that acknowledges the importance of culture, incorporates the assessment of cross-cultural relations, recognizes the potential impact of cultural differences, expands cultural knowledge, and adapts services to meet culturally unique needs. Ultimately, cultural competency is recognized as an essential means of reducing racial and ethnic disparities in health care.
This guide explores the concept of cultural competency and builds the case for the enhancement of cultural competency in health care. It offers seven recommendations for improving cultural competency in health care organizations:
Collect race, ethnicity and language preference (REAL) data.
Identify and report disparities.
Provide culturally and linguistically competent care.
Develop culturally competent disease management programs.
Increase diversity and minority workforce pipelines.
Involve the community.
Make cultural competency an institutional priority.
Also included are self-assessment checklists for hospital leaders and a list of relevant cultural competency resources.
For additional resource on equity, please visit the Equity of Care website.
Key Resources