Child and Adolescent Mental Health
Data from the Centers for Disease Control and Prevention shows that as many as 1 in 5 children and adolescents in the United States have a mental, behavioral, or emotional disorder, but only about 20% of this population ever receives care from a specialized mental health provider.
Now, as a result of the effects of the COVID-19 pandemic, the need for accessible, high quality behavioral health care for children and adolescents is even greater. From March 2020 to October 2020, mental health-related emergency department visits increased 24% for children ages 5-11 and 31% for those ages 12-17, as compared with 2019 emergency department visit data. Additionally, as of fall 2022, weekly ED visits among females were at or higher than the pre-pandemic baseline for mental health conditions overall, suicide-related behaviors and drug overdoses.
Hospitals and health systems can play an important role in ensuring children and adolescents receive the behavioral health care they need to thrive. As part of AHA's behavioral health initiatives, this webpage is designed to provide information, resources, and best practices to better support hospitals and health systems in addressing child and adolescent mental health.
---
People Matter, Words Matter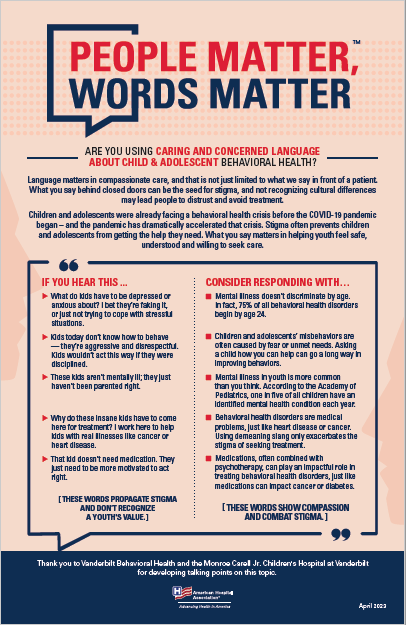 Language matters in compassionate care, and that is not just limited to what you say in front of a patient. What you say behind closed doors to coworkers, friends and family can be the seed for stigma, and not recognizing cultural differences may lead people to distrust and avoid treatment. After experiencing a traumatic event, many people struggle to share their experiences and reactions with others. What you say matters in helping the survivor feel safe and understood.
Child and Adolescent Mental Health Resources
Get Help Now
If you or a loved one are experiencing an emotional crisis or thoughts of suicide, support is available. The following services provide free, confidential support and are available 24 hours a day, seven days a week.
For emotional support related to COVID-19, call the Disaster Distress Helpline at 800-985-5990 or text TalkWithUs to 66746.
For those experiencing a suicidal crisis, call the Suicide and Crisis Lifeline at 988 or text the Crisis Text Line by texting HOME to 741741.
In the News
In recognition of Mental Health Awareness Month, AHA's People Matter, Words Matter campaign has released a new poster to support child and adolescent behavioral health.
The Health Resources and Services Administration today awarded nearly $60 million over five years to help 24 health care and educational organizations integrate mental health training into training for primary care clinicians, with a focus on preparing them to treat mental health needs in children and adolescents.
The panel also recommended screening children aged 12-18 for major depressive disorder, as it did in 2016.
Have a question?