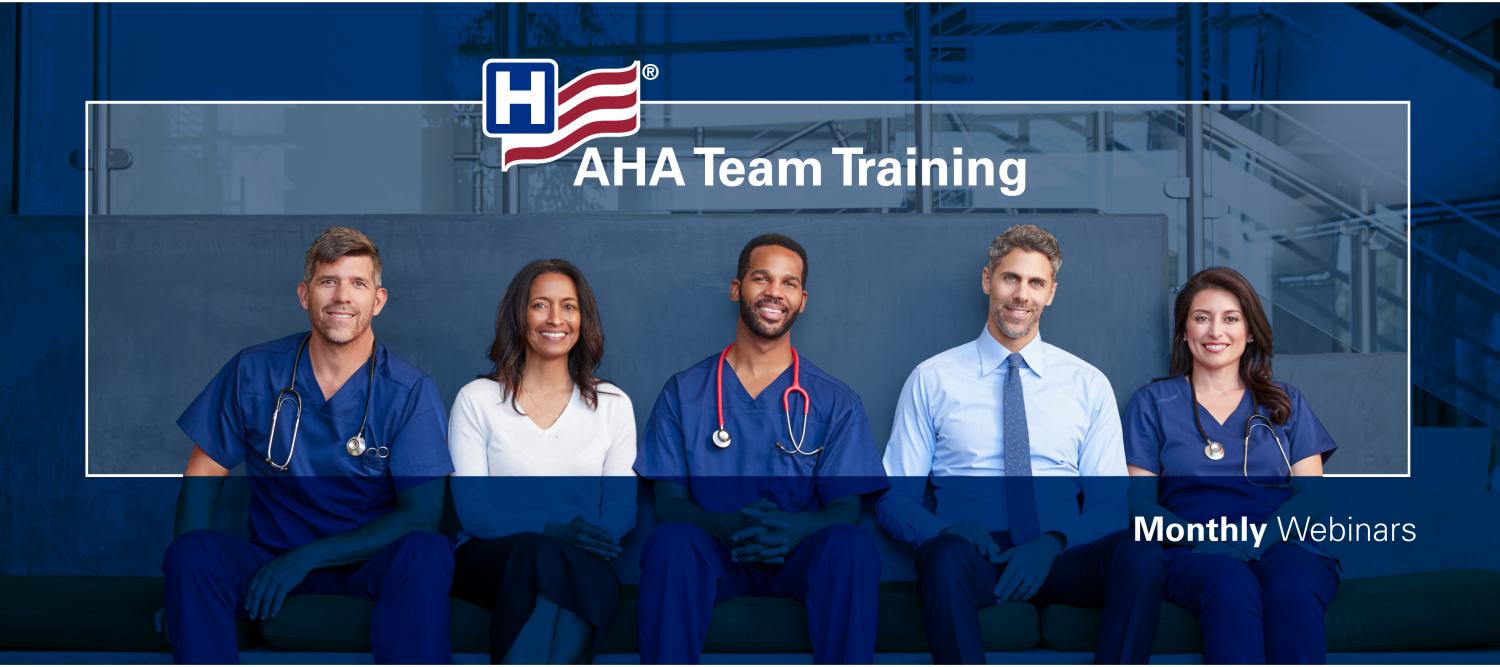 What's Data Got to Do With It? Why Data is "Mission Critical" to Your TeamSTEPPS Success Dec 13
Date
Wed, Dec 13, 2023, 12:00 PM – Wed, Dec 13, 2023, 01:00 PM
Event Host

Contact Information
AHA Team Training
312-422-2609
Open To
Members and Non-members
Description
Wednesday, December 13 at 1:00 pm ET (12:00 pm CT, 11:00 am MT, 10:00 am PT)
Let's be honest – we have a "love-hate" relationship with data. We can get lost in the drudgery of our dashboards and lose sight of data's power to inspire. Every organization has its pain points. Connecting our stories with measurement drives understanding of our challenges and empowers an organization's collective "why." When you discover the data you have and get intentional about measurement, suddenly the work you do daily takes on new meaning. You have proof that the culture change you're pursuing is making a difference in real time.
So, let's talk data. We start this webinar by examining why data and the story it tells are "mission critical" to TeamSTEPPS success. Next, we'll look at some examples that demonstrate the power of data to inform and inspire. We'll also review some of the "nuts and bolts" of measurement by examining Kirkpatrick's model of measurement and the importance of both outcome and process measures for assessing TeamSTEPPS implementation success. Finally, we'll end our time together with an invitation to impact others with your TeamSTEPPS measurement story…because data has got a lot to do with it!
Learning Objectives:
Describe the importance of measurement in supporting your personal and organizational "why"
Describe the Kirkpatrick model as applied to TeamSTEPPS implementation evaluation
Identify the link between process and outcome measures for tracking TeamSTEPPS success
Discuss the national implication of data collection surrounding TeamSTEPPS implementation
Speakers:
Rhonda Fischer, RN, BSN, CEN
Team Training Clinical Program Lead, American Hospital Association
Tonya Martino, RN, BSN, ND
Clinical Director of Team Performance, WWAMI Institute for Simulation in Healthcare (WISH), University of Washington
Stacy Norton, MD, FACOG
Chief-of-Staff, Houston Methodist Willowbrook
Continuing Education:
Participants will earn 1.00 Joint Accreditation credit hour for this webinar by completing all CE requirements. CE credit is provided by Duke University Health System Clinical Education & Professional Development. They are accredited by the American Nurses Credentialing Center (ANCC), the Accreditation Council for Pharmacy Education (ACPE) and the Accreditation Council for Continuing Medical Education (ACCME).
In order to qualify for credit, you must have an active Duke OneLink Account and watch the webinar live. If you do not have a Duke OneLink account, please follow these directions to set up your account and confirm your mobile number (both steps are required). Please note this is a one-time set-up and you may use your account for all future AHA Team Training webinars.