SHSMD23 Puts Digital Marketing Strategy and Its Role in Patient Care in the Spotlight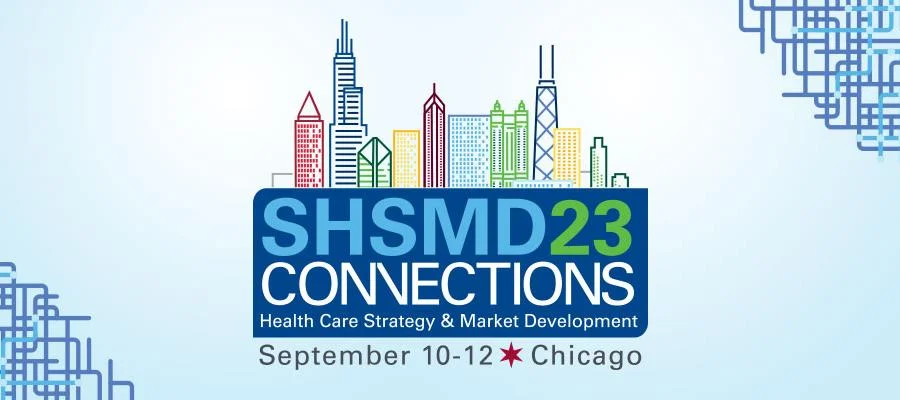 The Society for Health Care Strategy & Market Development will host the SHSMD23 Connections Conference Sept. 10 – 12 in Chicago. This annual gathering of hospital and health system professionals from marketing/digital engagement, communications/public relations, strategic planning and/or business development delivers three days of actionable content, networking and collaboration with the nation's top health care strategists. Attendees can exchange transformative marcom strategies and future-focused planning in pursuit of helping their organizations drive positive changes for patients and community health. SHSMD, a professional membership group of the American Hospital Association, strives to support all strategy professionals as they explore innovative solutions.
Health care strategists are increasingly in demand for creating strategic messaging that is informative, compassionate and trustworthy. Their approach often includes careful analysis of challenges in the medical field, overall organizational goals, and the evolving health care landscape. With these tools, they can craft messages that empower patients and drive growth, loyalty and engagement. Diane Weber, executive director of SHSMD, emphasizes the crucial role many of these professionals play in patient experience:
"There's a human element to health care, and digital marketing taps into that. Health care organizations must fully engage with communities and ensure patients and their families know where to go for quality care, how to access timely medical assistance, and what they can do to maintain health and wellness. Marketers and communicators work strategically and keep this engagement going. And many of these messages are delivered creatively as not every patient obtains their information via identical means."
During the pandemic, information relayed to patients, their loved ones and others in the community was a crucial part in stemming the tide of infections. Messaging also ensured that patients received treatment and individuals undertook effective pathogen management techniques, including proper handwashing, decontaminating surfaces and recognizing possible symptoms.
A post-pandemic world has yielded an even greater need for reliable information while technology continually evolves. Website content, push notifications, chatbots and apps are part and parcel of the burgeoning technological spaces that can connect patients with up-to-the-minute information regarding their care. Many professionals navigate these spaces and help bridge the gap between organizations and those they serve. This is a critical component in creating healthier communities and establishing ongoing trust.
Digital strategists and others in communications help health care organizations build and fortify strong patient relationships. Informed patients can make better decisions about their health journey, may feel more comfortable with medical staff, more involved with their care plans and satisfied. A solid connection often lies at the intersection between health care administrators, medical experts, staff, patients, and community leaders and members. Finding solutions to long-standing and complex challenges is a collaboration between these individuals. Professionals in the digital strategy field assist in bringing this collaboration to life.
In addition, SHSMD supports these professionals throughout the year with educational programs, leadership opportunities and career resources. SHSMD also sponsors numerous forums for professionals to exchange novel ideas, discuss challenges in the field and discover new and emerging platforms and technology solutions. SHSMD Connections 2023 is the leading education event and the central meeting place for digital strategists and market development experts to connect, explore innovations in marketing and communications and find ways to drive better outcomes for their health care brands and consumers. This year's keynote speakers will cover a wide array of topics including how to spark creativity, using data to drive diversity, equity and inclusion activities, and achieving AI's promise of care transformation. Alan Shoebridge, associate vice president of National Communications, Providence and SHSMD board president, touts the value of the SHSMD Connections to digital marketing professionals:
"The SHSMD Connections conference is one of the best ways to connect with other health care strategists and learn from their experiences. I've attended the conference many times, and I've always come away with new ideas and contacts that have helped me advance my career and support change where I'm working. If you're looking for ways to grow and learn about what truly matters in our field, I highly recommend attending the SHSMD Connections 2023 Conference."
To find out more about SHSMD23, visit shsmd.org/annual.
Deanna Martin is the American Hospital Association's vice president for professional membership groups.
Turning the calendar to a new year brings some excitement as we look forward to new opportunities and adventures in our professional and personal lives.…
Pictured: Shabnam Mogharabi, CEO and executive producer at SoulPancake, an award-winning media company, opened the meeting with insight into cutting…