Chairman's File: A Great Opportunity to Advance Health in America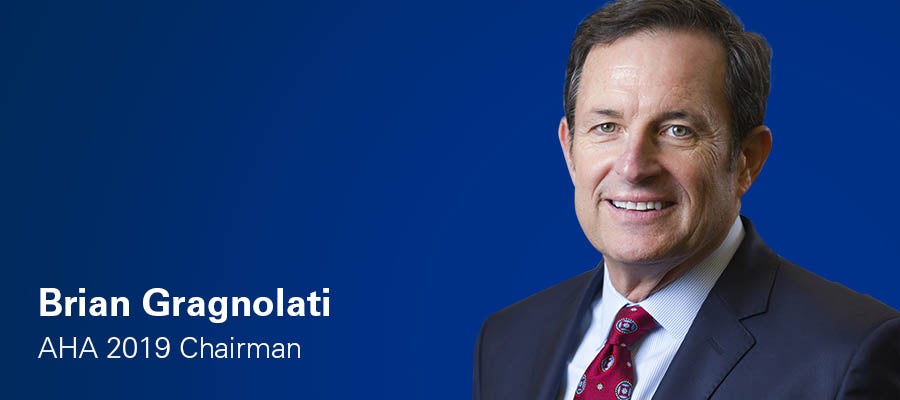 For more than two centuries, our nation's hospitals and health systems have faithfully provided our citizens with the best possible care. With courage, tremendous skill and compassion, America's caregivers work tirelessly to heal, comfort, alleviate pain and save lives.
One of my favorite aspects of serving as 2019 chairman of AHA's Board of Trustees has been traveling around the country and seeing firsthand how you are upholding this amazing tradition of service and adapting it to meet evolving health needs. Together, we are embracing change in a big way – always searching for the next great idea to improve the care we provide.
Health care professionals from the emergency room to the C-suite are tackling affordability, disruption, consumerism and workforce planning. Hospitals are growing food for the hungry, finding more convenient venues for care, and deploying technology to deliver medical expertise at a patient's bedside – even from thousands of miles away.
Our strength as a field is our unity and our partnership is stronger than ever. The AHA will continue to listen to your concerns and fight the battles that allow you to concentrate on what you do best: saving lives, performing miracles and keeping our society healthy.
We face real challenges in the coming year, but my dear friends, AHA President and CEO Rick Pollack and incoming AHA Board Chair Melinda Estes, M.D., president and CEO of Saint Luke's Health System, are well equipped to lead us. Together, we will seize this tremendous opportunity to shape the future of health in America.
It has been my absolute pleasure and the privilege of a lifetime to serve as chair this year in support of all of you. From my family to yours, best wishes for a peaceful and joyous holiday season and New Year.