AHA Chair: We Must Deliver Care That Provides Value, Is Affordable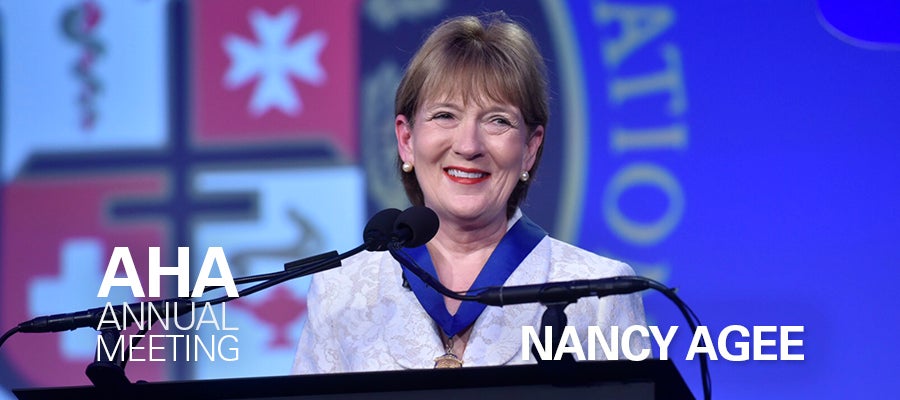 AHA Chair Nancy Howell Agee yesterday said that the health care field needs "to transform" and "find ways to deliver care that provides value and is affordable."
In her investiture address at the AHA Annual Membership Meeting, Agee spoke about the AHA's Value Initiative and outlined the AHA's four-part commitment to guiding the field to:
redesign the delivery system;
improve quality and outcomes;
develop strategies for risk management and payment reform, and advocate for less burdensome regulation;
and pursue operational excellence.
"Our commitment to excellence demands our continual focus on making care better and more affordable for our patients," said Agee, president and CEO of Roanoke, VA-based Carilion Clinic. "They are the reason we are here and why we do what we do."
During her address, Agee spoke about how the care she received as a teenager – after she was diagnosed with a bone tumor in her knee – inspired her to become a nurse and pursue a career in health care.
"The doctors and nurses who cared for me inspired me then, and the work that caregivers across the country do each and every day, inspires me now… inspires me to make a difference to the patients who put their trust in us," Agee said. "In my opinion, there's not much that's more important."
As Agee shared stories of the patients who have touched her life and the lessons she has learned, she urged her colleagues from across the country to stay agitated.
"We cannot sit on the sidelines as health care changes around us," she said. "We must lead…for all our patients. We must lead for our teams, the caregivers and staff who demonstrate care and compassion every day. Together, with open ears and eyes and hearts, we will be the catalyst for change in a sector that is ripe for it."
Agee has served as president and CEO of Carilion Clinic since 2011. The integrated health care system includes a large urban Level I Trauma Center, a major teaching hospital, community hospitals and critical access hospitals.
Virginia Governor Ralph Northam introduced Agee during the investiture ceremony and called her a "rock star in the Commonwealth of Virginia."
"She has attracted talent to [Virginia] and, as you all know, talent attracts other talent," Northam said. "And with that comes research and development opportunities, grant opportunities and business opportunities."
For additional highlights from the AHA Annual Membership meeting, click here.