AHA CMO Jay Bhatt: Surgeon General, Other Leaders Highlight Importance of Community Partnerships at ACHI Conference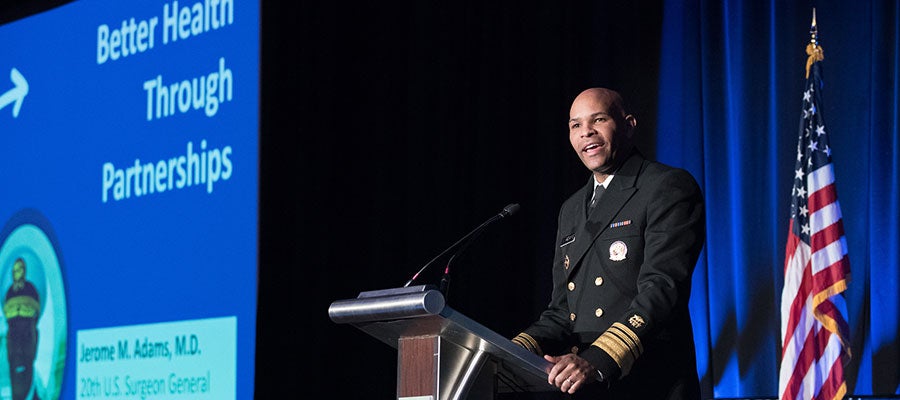 At the AHA's Association for Community Health Improvement (ACHI) National Conference last week, U.S. Surgeon General Jerome Adams, M.D., spoke about how strengthening relationships between health care organizations and communities is the key to improving health. Aligned with his motto, "Better health through better partnerships," Adams' message focused on the need to be willing to go to our partners' table, speak their language, listen to their concerns, understand needs, identify opportunities and take action together.
In addition to Adams, Pritpal S. Tamber, M.D., CEO of Bridging Health & Community, discussed the importance of empowering community members and health care leaders to affect change.
They were poignant messages to cap off the three-day conference. This year's theme, "Be the Bridge," focused on how individuals and organizations can be the bridge – fostering connections within organizations or strengthening relationships with communities and partners. More than 650 participants from across the country participated in a series of strategic discussions using design thinking and canvases to structure conversations about partnering with different types of stakeholders in hospitals and the community.
Leaders from hospitals and health systems, including UMass Memorial Health Care, Chicago's Presence Health and Minnesota's Allina Health, also shared examples of how partnerships are successfully addressing community health priorities. Watch for more information in AHA Today and on ACHI's website with information on these case examples.
AHA has released a number of guides on how health care organizations can address the social determinants of health. The guides, which focus on transportation, housing and food security, provide strategies to address these issues to improve population health. New guides on healthy behaviors and education will be released soon. We also will help our members operationalize the guides through technical assistance and other tools and resources.
Studies have shown that a zip code may be a better predictor of health than a genetic code. In other words, place is a key determinant of health and life expectancy. Better health care requires a holistic approach, using a lens that extends beyond the four walls of a hospital. As hospitals and health systems continue to redefine the "H" to provide coordinated and convenient care beyond their four walls, community partnerships will play a pivotal role in these efforts, and AHA will continue to share best practices and strategies with the field.
Jay Bhatt, DO, is the AHA's senior vice president and chief medical officer, and president of the AHA's Health Research & Educational Trust.