Perspective: Reconnected and Ready to Rebuild and Reimagine a Better Health Care System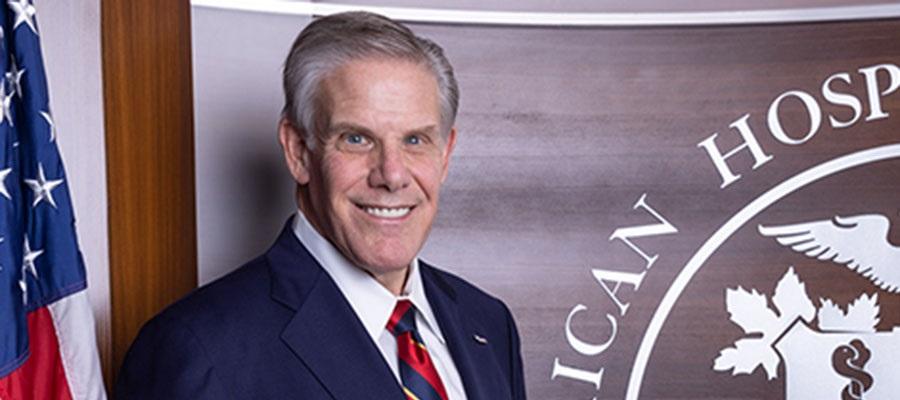 Courage. Compassion. Workforce. Health equity. Heroes. Challenges. Innovation. Community partnerships. Leadership. Opportunities.
These were some of the most common words we heard from attendees and speakers talking about our field at this week's AHA Annual Membership Meeting in Washington, D.C.
It was great to have so many hospital and health system leaders from across the country at the meeting, which we held in person for the first time since 2019.
During the meeting, we:
Reconnected with friends and colleagues and established new connections;
Heard insights from top Administration officials, influential senators and representatives, media figures and thought leaders;
Hosted several "deep-dive" special forums connecting strategic ideas and relevant research with experts driving policy on the biggest issues affecting our field, including health equity, workforce, COVID-19, rural health and post-acute care;
Honored individuals and organizations for their outstanding contributions to the health care field, as well as their incredible work during the pandemic;
Debuted new elements of the meeting, including a "Power Up Lounge" where members could relax, recharge and reconnect during breaks, as well as watch live podcasts being recorded; and
Prepared members to bring powerful advocacy messages to their elected officials on Capitol Hill.
These messages, which were delivered directly to lawmakers, revolved around urging Congress to support continued efforts to conquer COVID-19 and bolster public health; strengthen the health care workforce; and ensure the financial stability of hospitals and health systems to make certain that we are always there, ready to care.
Please take two minutes to view this highlight video that captures a few of the sights and sounds from the meeting. We also have more in-depth coverage and videos from key presentations available on our Annual Membership Meeting videos webpage. And we'll be working over the next few weeks and months to share further insights and develop new resources on some of the key themes and issues covered during the conference.
Our field continues to face incredibly big challenges, including the unpredictability of COVID-19; an exhausted and strained workforce; the surge of inflation which increases the cost of caring; and cracks in the supply chain, just to name a few.
At the same time, we have a tremendous opportunity to rebuild and reimagine a better health care system for all people in every community. That system allows for convenient, coordinated and seamless care, including behavioral health services; delivers superb clinical outcomes; and focuses on promoting wellness. And all of this must be done with a continued focus on diversity, inclusion and health equity. That's why the AHA was pleased to provide members with the Health Equity Roadmap, a customizable tool health care organizations can use to map out their steps on the equity journey.
What happens here in Washington is important. After all, Medicare and Medicaid account on average for over half of the services we provide. And, there are so many federal policies that impact our lives on a daily basis when it comes to delivering health.
Just as important is what happens across America — hospital by hospital and community by community — as you work to make care better than ever. The AHA will continue to provide you with tools and resources that help address the major challenges ahead, with special focus on workforce, equity and behavioral health.
We all know that the health sector is in the midst of historic change — and America's hospitals and health systems are helping lead the charge to shape the future for our patients and the communities we serve.
Our patients and communities need us . . . which is why I'm optimistic about the future.
At this year's membership meeting I saw so many people — trustees, doctors, nurses and executives — whose leadership, commitment and passion for the health care needs of the communities they serve makes me confident about our road ahead.