Strategic Investment in Health Care Innovation
Through this series, the AHA and Concord are seeking to provide more information to hospitals, health systems and health care organizations about innovation investing and deepen their understanding of the various private equity strategies that are involved, including venture capital, growth equity and buyout strategies.
Topics in the series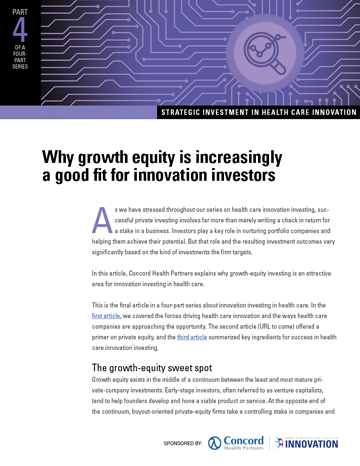 Part 4
Finding the sweet spot between venture capital and buyout investing
Private investing involves far more than merely writing a check in return for a stake in a business. Investors play a key role in nurturing portfolio companies and helping them achieve their potential. But that role and the resulting investment outcomes vary significantly based on the kind of investments the firm targets. Learn why growth-equity investing can offer a higher chance of success than venture capital and greater upside than buyout strategies.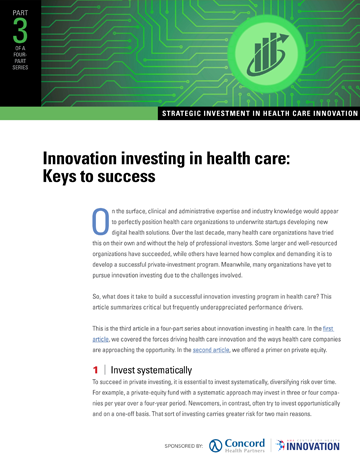 Part 3
Learn these underappreciated performance drivers
On the surface, clinical and administrative expertise and industry knowledge would appear to perfectly position health care organizations to underwrite startups developing new digital health solutions. Over the past decade, many organizations have tried this on their own without the help of professional investors. Some have succeeded while others have learned how complex and demanding it is to develop a successful private-investment program. This six-point primer identifies performance drivers that can impact your success.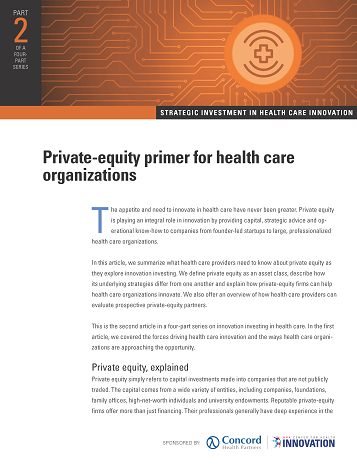 Part 2
What Health Care Providers Need to Know about Private Equity as They Explore Innovation Investing
The appetite and need to innovate in health care have never been greater. Private equity is playing an integral role in innovation by providing capital, strategic advice and operational know-how to companies from founder-led startups to large, professionalized health care organizations. This report defines private equity as an asset class, describes how its strategies differ from one another, explains how private-equity firms can help health care organizations innovate and how to evaluate prospective partners.
Part 1
What'S Driving the Surge Across the Field
The past decade has seen explosive growth in health care innovation, fueled largely by technology and tech-enabled services. As innovative companies scale and mature, more health care organizations are exploring ways to get involved not just as technology users, but also as investors. Explore the factors driving innovation and the various ways organizations are trying to capitalize on this opportunity.
General Disclosures: This material is provided for educational purposes only and should not be construed as investment advice or an offer or solicitation to buy or sell securities. Private equity investments are speculative, highly illiquid, involve a high degree of risk, have fees and expenses that could meaningfully reduce returns, and subject to the possibility of partial or total loss of fund capital; they are, therefore, intended for experienced and sophisticated long-term investors who can accept such risks. Investments with private equity sponsors typically are not transferable without consent of the sponsor, involve conflicts of interest, often involve leverage and limited partners have little to no ability to influence decisions.