Taking the lead in health care transformation.
In an environment that presents hospitals and health systems with significant opportunities to reimagine care delivery, the American Hospital Association opens the door to new possibilities that make health care safer, more accessible and more affordable. And we've been on the forefront of change for more than 150 years.
From the very beginning, AHA has been led by disruptive thinkers who took bold steps to advance health care. These purposeful change agents set the pace, and the dynamic leaders who followed continued the tradition.
Today, the AHA Center for Health Innovation, its leaders and staff tackle issues that matter most to the field as hospitals and health systems recover, rebuild and reimagine. The Center harnesses the collective capabilities of the American Hospital Association by converging Health Forum, Health Research & Educational Trust, AHA Data Center and The Value Initiative to enhance our public policy, innovation and field engagement agendas. Our staff is made up of highly experienced clinicians, educators and data analysts who constantly explore, test, improve and deploy resources that make it easy for our members to adopt the most innovative solutions available today and in the pipeline for tomorrow.
At our best, we advance more than just health care: We advance hospital leaders, practitioners, academics, policymakers, business leaders, community care workers and government agencies to improve care.
Our Motto
Lead, connect and transform the future of health care so that one day we can achieve a society of healthy communities, where all individuals reach their highest potential for health.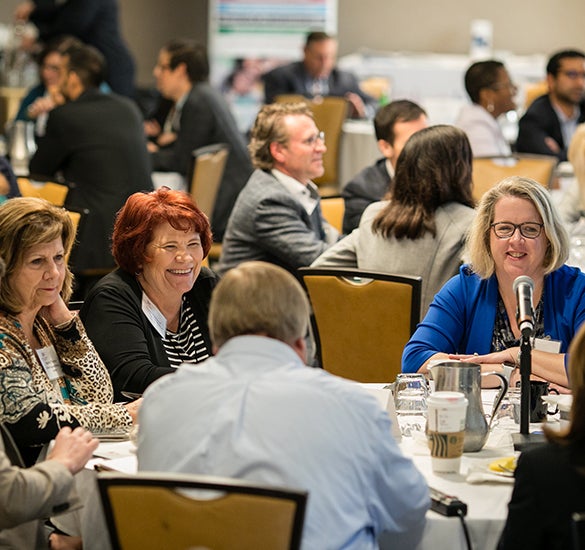 The Power of Partnerships
We believe the best innovations require strategic partnerships.
The AHA Center for Health Innovation has the networking capabilities to attract and engage the right partners to tackle issues big and small. Research experts can be leveraged into game-changing research and development, accelerators can source leading-edge innovations from all around the world, and agile startups can experiment nimbly with new processes and ideas.
Check out how our partnerships are leading the field in transformation.
Meet AHA's Center for Health Innovation Leaders.
The Leadership Council comprises executive leaders with diverse backgrounds from AHA member organizations that help us advance our work and mission.
Connect with us
Want to partner? Let's talk.
Whether you're looking for business partner opportunities, hospital solutions, or just want to let us know how we did, you can contact us. Please provide the following information: