Coronavirus COVID-19: Telehealth and Virtual Care
See below for the latest information and resources for hospital and health system leaders related to telehealth and virtual care during the COVID-19 pandemic.
---
AHA Market Intelligence: Telehealth and Virtual Care Best Practices
March 31
In many cases, telehealth and virtual care can keep people safer at home and out of hospitals, doctors' offices and urgent care by triaging those who have questions and need medical care, providing access to timely diagnosis and treatment, and monitoring patients with chronic conditions, while also limiting the person-to-person spread of COVID-19.
---
Recording: COVID-19 Call with Leaders from Providence St. Joseph Health System in Seattle (AHA Member Content)
March 24, 2020
Short summary and audio recording of virtual meeting where Providence shared insights on their digital response to COVID-19.
---
Advisory: 6 Digital Tactics Health Systems Can Implement This Week to Battle COVID-19
March 19, 2020
This advisory from AVIA Health offers tactics that can be implemented in days, not weeks, to help health systems during this crisis.
---
AHA Advisory: CMS Broadens Access to Telehealth during COVID-19 Public Health Emergency
March 17, 2020
This document provides analysis several waivers and policy changes to broaden access to telehealth services for Medicare beneficiaries during the COVID-19 public health emergency.
---
Toolkit: CMS releases telehealth toolkits
CMS today released telehealth toolkits for general practitioners and providers treating patients with end-stage renal disease. Each toolkit links to sources of information on telehealth, such as how to initiate a telemedicine program, monitor patients remotely, develop documentation tools and other topics. They also outline temporary virtual services that could be used to treat patients during the COVID-19 pandemic.
---
Report: Strategies for Leveraging Telemedicine for COVID-19
This report in the New England Journal of Medicine examines Jefferson Health's approach to telemedicine during the COVID-19 outbreak.
---
Redesigning Care: A How-To Guide for Hospitals and Health Systems Seeking to Implement, Strengthen, and Sustain Telebehavioral Health
The AHA and the National Quality Forum have collaborated to produce Redesigning Care: A How-to Guide for Hospitals and Health Systems Seeking to Implement, Strengthen and Sustain Telebehavioral Health, which describes actionable strategies and interventions and links to a variety of other tools and resources. Whether a health care organization is starting a telebehavioral health program or strengthening an existing one, using this guide can provide better care to a large number of people who need behavioral health services, but don't have access.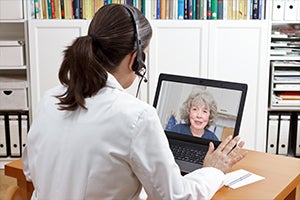 Latest from AHA on Telehealth and Virtual Care