AHA Leadership Summit Roundtable: The Future of Health Care Quality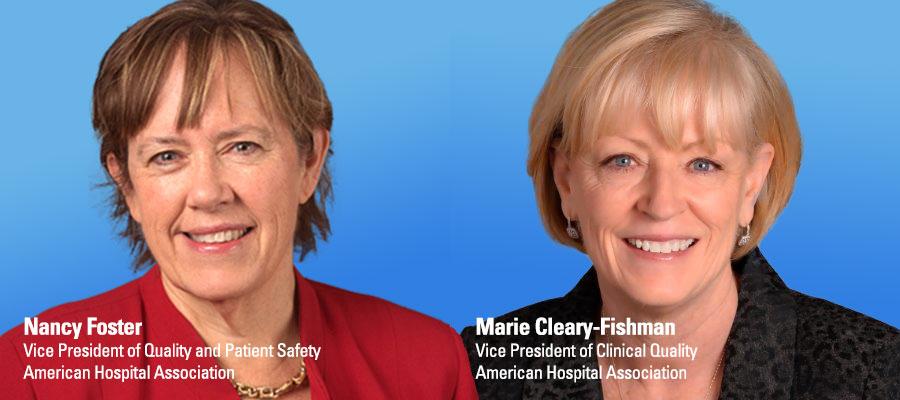 It's been a tough two-and-a-half years. Many hospitals and health systems are struggling to ensure the safety of their staff, get the right supplies and find skilled workers. These problems, of course, existed before the pandemic, but they also were exacerbated by myriad medical, societal and political shortcomings occurring throughout the COVID-19 pandemic, despite the good intentions of those trying to respond to the crisis. Although the field needs to reflect on the litany of flaws in our efforts, it cannot afford to be distracted or deterred by these challenges.
These topics were at the center of the Quality Leadership Roundtable that took place at the 2022 American Hospital Association Leadership Summit in San Diego. Hosted by the AHA Living Learning Network — a virtual community of nearly 500 members funded by the Centers for Disease Control and Prevention and focused on transforming health care by collectively sharing knowledge and concerns, expanding perspectives and problem-solving — the event facilitated discussions between hospital and health system leaders and senior staff from the AHA and CDC. It covered a wide range of themes, including quality/performance improvement programming, learning and capacity services, public policies regarding equity, the impact of the pandemic on quality-focused outcomes and workforce challenges.
What needs to be done to move forward quality and patient safety? That was the overarching question asked of participants as they moved between different stations devoted to the pressing needs of the field, as identified by LLN members.
Here are some of the ideas, solutions and revelations that came out of those breakout conversations. They are focused on using structures and processes to get the needed outcomes.
Policy. Led by AHA Vice President of Quality and Patient Safety Policy Nancy Foster, this group honed in on the role of regulation during a crisis. Some antiquated rules and policies lead to excessive inspection and forced oversight, yet a reasonable number of these are needed to ensure worker and patient safety. So what is the right balance? How can the various iterations of government support, not worsen, a more aligned vision on standards of care? And how can hospitals and health systems "police" bloated policies without just adding more protocols?
One way may be to unify organizational reporting requirements regarding actions, reports and data. This can reduce burden and promote the flow of accurate, reliable information to be used for better policies and effective actions to support delivery of needed patient care. These data coupled with an open and active flow of information from those delivering care with public policymakers can help create more practical, aligned and patient-forward policies regarding patient transfers, crisis of care protocols, salary-inflation/agency pricing, and the equitable distribution of available resources. It also may help identify care delivery challenges, such as the increase in health care-associated infections or the staffing shortages earlier and engage more organizations in addressing these challenges. It also was deemed important by the group to harness trusted communicators and channels, since the effectiveness of the communication depends as much on confidence in the messenger as it does on faith in the organizations behind the message.
By having a clear vision of successful strategies and leading from a positive, affirming point of view, policymakers can build confidence within the existing structures of their organization.
Patient safety and health care-associated infections. Led by Kristen Hayes, AHA director of clinical quality, Arjun Srinivasan, M.D., deputy director for HAI prevention programs at the CDC's Division of Healthcare Quality Promotion, and Cecilia Joshi, associate director for state strategy, also at the CDC's Division of Healthcare Quality Promotion, this panel sought to identify the drivers of and solutions for the significant increases in certain HAIs during the first year of the COVID-19 pandemic. There was a consensus among participants that hospitals and health systems need to do a better job of communicating with their teams the value and importance of quality improvement and infection-prevention and control, as opposed to the oversaturation of checklists and recommendations that have become common place. By sharing these stories and humanizing the data, health care professionals are reminded of why they went into health care and the importance of using QI and IPC tools to keep patients safe.
A focus on health equity also was deemed necessary for improving patient safety. By addressing and endorsing more equitable practices — such as providing bilingual services and meeting patients in their communities — overall patient experiences and advocacy can be improved.
Workforce. Led by AHA Senior Director of Quality and Patient Safety Akin Demehin, the group started by acknowledging known challenges and their exacerbation by the pandemic, which turned up the demand and urgency of these existing issues.
As the pandemic's impact on care needs has continued to strain the workforce, well-being of the health care workforce has continued to suffer. All the participants shared their concerns about the ongoing mental health and well-being of their teams, as well as the stability of their improvement efforts when the team is worn out. The ongoing pandemic, combined with broader workforce shortages across other fields and industries and the impact of team changes, have tested the teamwork and unity of the front line. One roundtable participant, a chief medical officer, noted that her hospital went from using its Rapid Response Team an average of 30 times a month pre-pandemic, to an average of 300 times a month most recently. This kind of all-hands-on-deck environment leaves little to no room for instruction, training/coaching, problem-solving or self-care and thus further taxes the team.
The participants were eager to continue exploring the use of technology, artificial intelligence and other digital tools to supplement the workforce and ease the depth of knowledge gaps, as team members depart and new graduates are onboarded. Participants were interested in exploring layered support that could help stabilize teams but emphasized the need to do so without adding additional learning burden. The group believed that maintaining safety practices has been challenged by turnover across the teams and hopes that more resources can be developed to support better alignment.
Community partnerships. Led by AHA Director of Clinical Quality, Grants and Contracts Kristin Preihs, participants expressed troubles connecting with collaborators on issues of telehealth, data sets and behavioral health. They noted that some partnerships that had been formed during the most demanding moments of the pandemic were starting to cool, if not disappear. To reestablish and fortify these relationships, some participants suggested formalizing the infrastructure of these relationships and indexing the value gained through said collaboration(s).
Other strategies that were suggested for improving community partnerships included larger investments in social workers, pairing with local colleges and training programs to incentivize and support attempts to grow the workforce, and more frequently enlisting the services of English as a second language translators — both clinical and nonclinical — as trusted messengers within hospitals and health systems.
Performance improvement capacity and skills. Led by AHA Vice President for Clinical Quality Marie Cleary-Fishman, this group identified several tools and cross-disciplinary incentives that address staff needs. By breaking down silos and standardizing language — which is a standard process as well as a vote of confidence for in-house, quality improvement focused departments — hospitals and health systems can create a hub for learning best practices and sharing overall concerns.
The session participants also considered the importance of connecting best practices to finances to offer a more rounded rationale behind the importance of IPC and QI work.
Equitable strategies. Led by Leon Caldwell, AHA senior director of health equity strategies and innovation at the Institute for Diversity and Health Equity, this group identified many needs and desires for ensuring the health and safety of the most historically marginalized communities. Perhaps the most pressing obstacle is the overall lack of resources to fund these initiatives. One way to overcome this is by creating multi-stakeholder committees to redistribute organizational funds, so organizations can get a fresh perspective on what programs they truly prioritize. Antiracism classes, funding for translators and training in diversity, equity and inclusion also could go a long way to changing workforce behaviors and actions.
Another way to tackle inequitable care is to set specific goals to address the health-related issues of specific patient populations affected by disparities. For example, asthma, hypertension and neonatal complications disproportionally affect the Black community. So by publicly "declaring war" on these inequities, they stay visible to care providers, communities, patients and financial and policy decision-makers.
Moving forward. The best recommendations and the best data are inconsequential if we don't communicate the humanity behind them in a way that people will understand. That is why events like this roundtable discussion are so important in facilitating conversations within a network. It is not just talking: It is listening, reflecting and adjusting.
The CDC and AHA are aligned through a guiding philosophy of ensuring the best possible outcomes for patients, protecting health care professionals and improving the overall quality of the field. As advocates of performance and quality improvement, we need to be visible in our actions and are humbled by the work that was displayed at this roundtable session and throughout the AHA Leadership Summit. We look forward to continuing these robust discussions.
Nancy Foster is vice president of quality and patient safety policy and Marie Cleary-Fishman is vice president of clinical quality, both at the American Hospital Association.
Check out the AHA Living Learning Network's latest publication "The Pandemic: Responding with Resilience and Service to Community," which highlights images of and commentary from health care professionals on their experiences during the past two-plus years. This e-book brings to life the early days of COVID-19 testing and treatment, the struggles and perseverance of front-line workers taking care of patients and themselves during surges, and the more recent months when care teams collaborated with community partners on efforts to vaccinate Americans.