Chairman's File: Partnering with You to Advance Health in America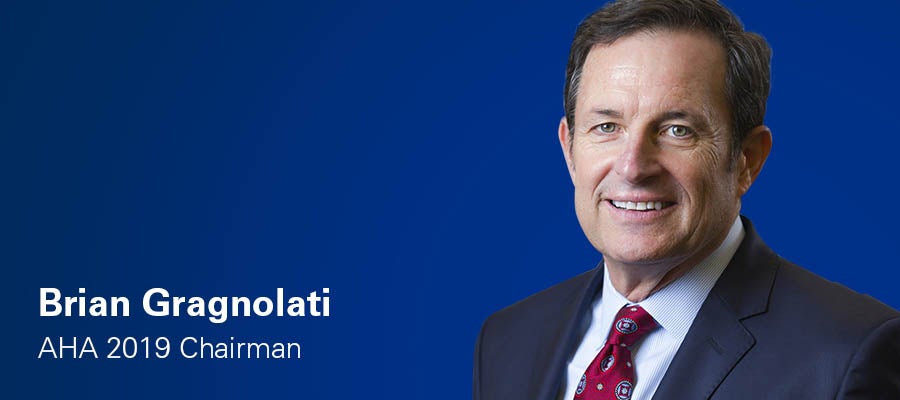 It's a privilege and a pleasure to begin my year of service as chairman of the AHA Board of Trustees. As chair-elect last year, I had the opportunity to meet with many of our members. I enjoyed learning from each and every one of you and look forward to expanding our dialogue this year.
One of the benefits of the annually-rotating post of AHA chairman is that it helps to ensure that all hospital and health system voices are heard. My predecessor, Nancy Howell Agee, provided tremendous leadership on critically important issues, such as tackling the opioid crisis, spearheading innovation and transformation, and redefining the hospital of the future.
Building on these efforts, we have a new, ambitious set of challenges and opportunities to advance access, affordability and inclusion in 2019. Rest assured, the AHA is up to the task. We will continue to advocate for:
protecting patient access to care and coverage;
advancing health system transformation and innovation;
accelerating quality and patient safety; and
promoting regulatory relief.
We also will amplify the AHA's Value Initiative to support and mobilize the field around the issue of affordability.
Make no mistake: We will be heard.
It begins with hearing from all of you. When our paths cross in the year ahead, I ask you to share what is on your mind, what keeps you up at night, and how we can work together to ensure that all individuals reach their highest potential for health.
While AHA represents all types of hospitals and health systems across the U.S., as people caring for people, we are united by a common mission – to advance the health of individuals and communities. I look forward to partnering with you this year to bring our shared purpose to life.
Brian Gragnolati
AHA Chairman