Perspective: A Week of Appreciation, Gratitude and Thanks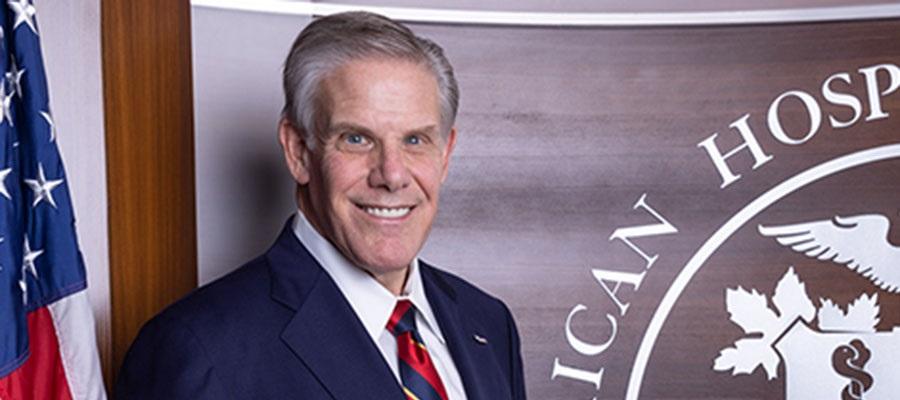 Two of the simplest words also carry the most meaning: "thank you."
National Hospital Week, May 8-14, and National Nurses Week, May 6-12, are opportunities to express our gratitude for the dedicated caregivers who stood up to the health care storm of the century and celebrate them as they continue to find innovative ways to support the needs of their patients and communities.
This year's National Hospital Week theme, "We Are Health Care," is a tribute to the more than 6.3 million people who provide such compassionate care day in and day out.
The AHA is helping to lead a national recognition spotlighting the invaluable role hospitals and their care teams play in our society. We'll run advertisements, share videos and promote the incredible work hospitals and health systems do each and every day to advance health in America.
Earlier this week, we shared new digital and social media resources that hospitals can customize and use to celebrate with their own communities.
While this is a time to honor the irreplaceable role of hospitals and nurses in our society, we also must acknowledge the severe stress placed on our health care workers and the alarming rise in workplace violence directed at caregivers over the past few years.
Hospitals are working on multiple fronts to address these issues and support their caregivers. They are intensifying recruitment and retention efforts to attract qualified staff and provide current team members the support they need. They also are working to strengthen existing lines of communication, create early warning systems to identify stressors before they become overwhelming, and pursue innovations to help caregivers work more efficiently.
In addition, AHA's Hospitals Against Violence developed in collaboration with the International Association for Healthcare Security and Safety that features action steps hospital leaders can take to build safer workplaces and case examples of innovative programs.
But more needs to be done. That's why the AHA has asked the U.S. Attorney General to support legislation that would create federal protections from intimidation and assault for health care workers. Workers who dedicate themselves to saving lives deserve a safe environment to deliver care.
The most meaningful 'thank you' we can offer this year during National Hospital Week and National Nurses Week is to fight for the support and resources that allow caregivers to continue doing what they do best – care for patients, save lives and perform miracles.
Our caregivers deserve respect, safety and consideration… the same qualities they extend to patients every single day.
Please take a few minutes to hear directly from some members of the health care work force who shared their stories from the pandemic and why they went into health care and the nursing profession as part of a new AHA video series. We also are releasing a custom music video, "Worth Fighting For," for use by AHA members.
There may be no better tribute to our hospitals and nurses than to attract a new generation of young people to enter the health care profession, carrying on its noble work for generations to come.