See How Our Members are Implementing the Guide to Support Their Workforce
From February – July 2023, 37 AHA member organizations participated in an AHA-led learning collaborative with the goal of creating or expanding their health care worker well-being and suicide prevention programming. Member organizations were encouraged to choose one of 12 suggested interventions from Suicide Prevention: Evidence-Informed Interventions for the Health Care Workforce to test in their organizations over the six-month period and monitor any changes in outcomes.
Through this work, many organizations were able to show positive outcomes from their participation in the collaborative.
Suicide Prevention Collaborative Brief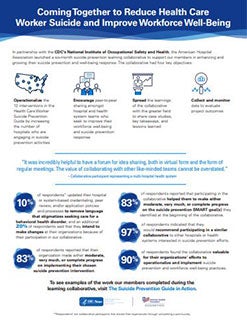 Infographic