Scholarships for Rural Health Care Leadership Conference
The deadline is now past.
Join the American Hospital Association (AHA) Rural Health Care Leadership Conference, February 6-9 in Phoenix, AZ. As partners of the Center for Disease Control and Prevention's Project Firstline, AHA is offering up to 25 scholarships to quality frontline leaders to attend the Rural Health Care Leadership Conference.
The conference connects top practitioners and thinkers to share strategies and resources for accelerating the shift to a more integrated and sustainable rural health system. The most significant operational, financial, and environmental challenges will be examined during the conference including the post-pandemic impact on rural hospitals and their communities, and present innovative approaches that will enable you to transform your organization's care delivery model and business practices.
The scholarships will cover in-person attendance at the conference in Phoenix, AZ from February 6 – February 9, 2022, including a 3-night hotel stay, roundtrip flight to/from the conference, and registration fees (AHA member rate). Deadline to apply for the scholarship is January 28, 2022.
Education Content Intended Audience
Rural Hospital and Health Systems CEOs
Administrators
Senior Executives
Governing Board Members
Nursing and Physician Executives
Public Health and Community Leaders
Executives of Rural Health Care Associations, Networks, and Clinics
Learn More About Rural Conference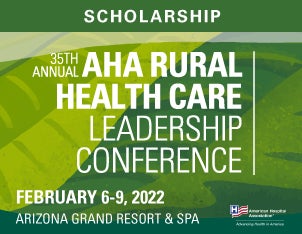 Notice
Important Note
Health care leaders work every day to ensure the safety of their patients and teams, and AHA prioritizes the same goal—your health and safety. The AHA plans to require proof of COVID-19 vaccination from participants attending in-person meetings hosted by AHA or AHA affiliates, including the Rural Health Care Leadership Conference, subject to applicable CDC and local guidance. All attendees will be required to wear a mask while indoors at the AHA Rural Health Care Leadership Conference, except while eating or drinking.
For each event, AHA will continuously monitor the guidance and provide additional details on safety protocols closer to the event start date.
For questions, contact ProjectFirstline@aha.org. A member from the AHA Project Firstline team will contact you.