AHA Digital Pulse
Use the AHA Digital Pulse to assess your digital capabilities and take action today
Prioritizing and implementing digital has never been more important, but it's often difficult to know where to start. AHA Digital Pulse is a free tool for our members to learn where existing capabilities can support scaling digital transformation. Benchmark your digital capabilities against other industry leaders and see what tools are fueling success. The American Hospital Association, in collaboration with healthcare digital transformation consultancy AVIA, is providing a free resource for members, the AHA Digital Pulse. Read our User Stories to see the Digital Pulse in action.
Learn More: Next Steps | Member Value | FAQs | User Stories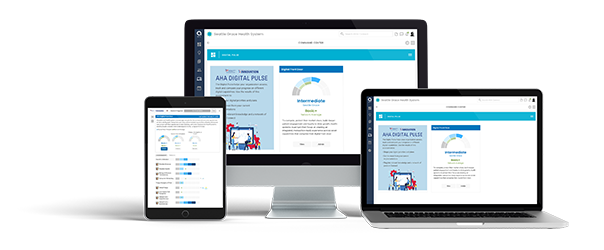 Login to AHA Digital Pulse
By clicking the "Login to AHA Digital Pulse" button, I agree that my personal information will be used as described in the AHA Pulse Privacy Policy. I also agree to the AHA Pulse Terms & Conditions.
CEO Perspective on Rural Digital Strategy
Explore These Assessments
Getting started is easy
Begin your digital transformation journey here.
For the best UX
AHA Digital Pulse is NOT supported on Internet Explorer. We recommend using Chrome, Firefox, Safari or Microsoft Edge.
NOTE: This resource is available to organizational members of the AHA.