Meet our Preferred Cybersecurity Providers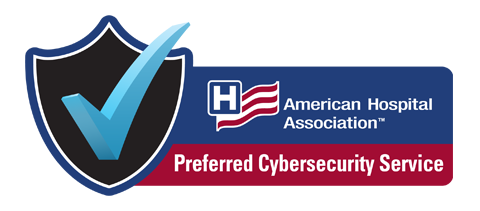 Are you aware that cyber adversaries target the health care sector the most of all critical infrastructure sectors? Hospitals and health systems in particular have frequently been the target of high-impact ransomware attacks, which disrupt patient care and risk patient safety.
The American Hospital Association (AHA) can help your organization prepare, prevent and respond to today's pressing cyber threats. That's why the AHA launched the AHA Preferred Cybersecurity Provider (APCP) Program earlier this year as part of our continued commitment to support our members as they develop and implement their cyber security strategies.
To ensure continued quality of the APCP, the AHA will:
Follow up with member participants to evaluate the provider's performance and continued participation in the program.
Provide feedback to our commercial partners for continued quality control and enhancement of their services for members.

Cyber Insurance Brokerage
Cyber Incident Response

Cyber Risk Management Services and Managed Detection and Response Services

Cyber Firm Risk Management and Information Governance
Cyber Risk Assessment, Privacy and HIPAA Compliance

Managed Detection and Response (MDR)
Risk Assessment + Managed Detection and Response (MDR) + Continuous Vulnerability Identification Service

Medical Device and Health IoT Cybersecurity

Complex Investigations including cyber, fraud and compliance investigation
Vulnerability scanning + penetration testing + gap assessment

Cyber Defense Payment System Risk Services
Data Protection as a Service

Medical Device Visibility, Security, and Management

Strata Firewall Solution
Prisma™ Cloud Security solution

Healthcare Security Services (HSS) and Incident Response (IR) specifically for small and medium hospitals up to 300 beds
Connect to Quality Cybersecurity Providers