Bridging the Sectors: Integrating Health and Social Care
Cross-sector partnerships between health care providers and community-based organizations are essential to improving and maintaining the health of individuals and families living with complex medical and social needs.
Explore how hospitals and health systems and community-based organizations can work together to better assess and coordinate care for individuals with complex needs, driving improved outcomes.
Video Webinar Series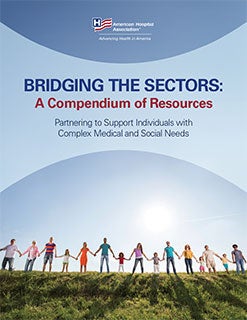 Guide
Bridging the Sectors: A Compendium of Resources
This is a curated set of action resources from leading organizations to support cross-sector partnerships serving individuals with complex medical and social needs. The compendium is organized in three sections: cross-sector partnering, societal factors and population health.
Download
Population Health Management