Community Investment for Health: An Overview for Trustees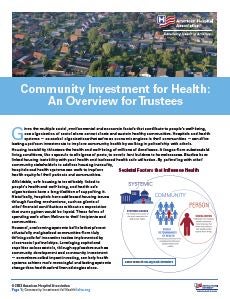 Download
This publication for trustees is based on a more detailed report — Community Investment for Health: Findings from Six Health Systems Investing in Affordable Housing — and summarizes the findings of interviews with participating health systems about their involvement in the Accelerating Investments for Healthy Communities initiative.
This overview includes discussion questions to help boards consider whether community investment to address societal factors, such as affordable housing, is a strategy their organizations may want to pursue or, if they are already involved, determine what steps their organizations might take to further advance their work.
A series of videos and podcasts on community investment for health includes two podcasts on the role of trustees in prioritizing, approving and implementing a community investment strategy, featuring trustees from CommonSpirit Health and Trinity Health.
Key Resources