The AHA hub for emergency response and disaster preparedness provides resources to strengthen and reimagine the emergency management system for the nation's health care and public health preparedness, response and recovery efforts for natural disasters and other emergencies.​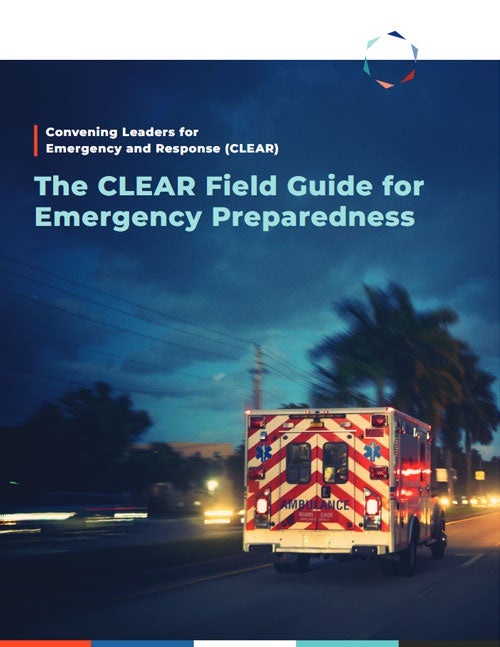 Guide
The CLEAR Field Guide for Emergency Preparedness
This guide is designed to advance our nation's emergency management system by breaking down knowledge silos, bolstering the public health infrastructure, diversifying health care integration and more deeply integrating federal, state and local governments. Learn more and download the field guide.
Explore the Guide
Get Prepared
Threats to public safety are increasing. Join the AHA in its efforts to align and unite health care and public health for the next emergency.
Partners







Presented as part of Cooperative Agreement HITEP210047, funded by the Administration for Strategic Preparedness and Response (ASPR). The Health Research & Educational Trust, an American Hospital Association 501(c)(3) nonprofit subsidiary, is a proud partner of this Cooperative Agreement. The contents of this webpage are solely the responsibility of the authors and do not necessarily represent the official views of the Administration for Strategic Preparedness and Response (ASPR) or the Department of Health and Human Services (HHS).