Getting Hospitals to Zero
STRIVE (States Targeting Reduction in Infections via Engagement) is a national initiative funded by the Centers for Disease Control and Prevention (CDC) and aimed at improving infection control practices and strengthening health care-associated infection prevention stakeholder relationships at the local level.
Background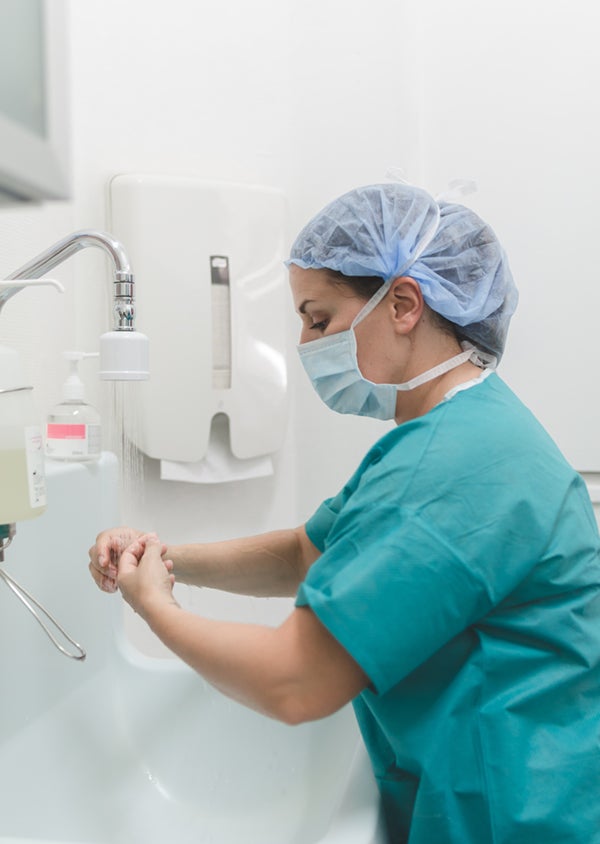 As the lead contractor, AHA's Health Research & Educational Trust (HRET) recruited more than 400 hospitals nationwide to complete a 12-month STRIVE intervention program.
STRIVE used evidence-based HAI reduction strategies and relationship-based methods to address HAI rates in hospitals with a high cumulative attributable difference in Clostridioides difficile infection and at least one other of these HAIs: central line-associated bloodstream infection, catheter-associated urinary tract infection, or methicillin-resistant Staphylococcus aureus infection.
HRET, along with the CDC and other expert partners, provided personalized technical assistance and online training. Courses addressed a wide range of topics, including environmental cleaning, patient and family engagement, and building a business case for infection prevention
Key Findings
A report evaluating the STRIVE program shows that new state-based alliances aimed at prevention are forming and behavioral changes are happening. Some hospitals achieved zero infections for the first time. Some measured moderate improvements. And others maintained their zero status.
Yet in aggregate, the findings revealed no statistically significant differences in infection rate changes during the intervention period. It's important to note that this new data doesn't conclude that the practices were ineffective; rather they indicate that challenges are unique to each hospital and more work needs to be done.
There are many reasons why preventing infections is still so hard, chief among them is that the inpatient population is complex, leaving patients vulnerable to these potential infections. As more care moves to the outpatient setting, patients admitted to hospitals now are more medically complex with a higher likelihood of having multiple chronic conditions.
Hospitals that are making a positive difference say that leadership, starting with the CEO, must be fully committed to infection prevention and control. They must make infection prevention a chief business strategy, engage in developing and deploying best practices, provide incentives for achieving goals and follow the performance indicators.
High staff turnover rates, inconsistent staff engagement and competing priorities are key barriers to success. To help overcome these barriers, hospitals need to create a safety culture that puts people first – patients and staff.
Comprehensive and real-time data reports on the spread of infections and adherence to strategies for prevention are fundamental tools every hospital needs. And it's most effective when that data is shared among state-based HAI prevention stakeholders, including state hospital associations and public health departments. These local resources can provide technical assistance, coaching, and education.
When hospitals and health systems make state-based partners a part of their team, they create an optimal network of care. These health care teams work smarter, not harder, by sharing resources and group brainstorming. Together they learn, grow and benefit from each other's knowledge and experience.
Infection prevention can be especially complicated for small hospitals. Lower volume creates an environment of infrequent interaction with complex conditions that require specific and consistent action from front-line staff. And clinicians at small hospitals tend to be stretched thin.
These key findings provide an incredible amount of information to help determine how hospitals should prioritize infection control moving forward.
Recommended Training
Infection Control Courses | Environmental Services Courses
Infection Control (11 Courses) | CDC
The 11-course STRIVE online training series is now available to all health care professionals at no charge and accredited for continuing education. It offers foundational infection prevention strategies that cut across all HAIs and socioadaptive solutions, such as leadership engagement, to address attitudinal and cultural changes. There are also HAI-specific courses for CAUTI, MRSA bacteremia, CLABSI, and CDI prevention.
The courses can be used for new employee training and ongoing all-staff "refresher" training.
Developed by: Centers for Disease Control and Prevention (CDC)
Environmental Services (4 Courses) | APIC
A 4-module STRIVE online training course specifically for environmental services technicians and their important role in infection prevention and control is also available at no charge. The tools and resources are provided in both English and Spanish.
This module defines what an infection is, reviews the chain of infection, and discusses how important environmental cleaning is to break the chain of infection.

Presentation facilitator notes and guidelines for trainers, for use in live sessions English
Checklists for discharge and daily cleaning inspection processes

This module provides information on what basic personal protective equipment (PPE) is, how to don and doff it, and when and how to use it during routine EVS activities.

This module covers safety practices EVS personnel should follow to protect themselves, other staff, patients, and visitors when using chemical disinfectants.

This module covers best practices for cleaning and low-level disinfection of environmental surfaces in occupied patients rooms and at the time of patient discharge or transfer, as well as how to evaluate adequate cleaning.

Checklists for monitoring room cleanliness using ATP technology and UV light inspection
Developed by: Association for Professionals in Infection Control and Epidemiology, Inc. (APIC)
Recommended Reading