TeamSTEPPS Master Training Course
October 27-28, 2022 | UCLA | Los Angeles, CA
Team Strategies and Tools to Enhance Performance and Patient Safety (TeamSTEPPS) is an evidence-based set of teamwork tools designed to optimize team function and improve patient safety. Our TeamSTEPPS Master Training course will teach participants all the TeamSTEPPS tools and principles - what they are, how to use them, and how to implement them. Participants will gain skills and resources for training and facilitating a TeamSTEPPS rollout to create meaningful and lasting culture change. This 2-day in-person course is led by an interprofessional faculty team with a "train-the-trainer" orientation utilizing games, scenarios and activities. This approach allows participants to experience and learn the TeamSTEPPS fundamental content, and provides established resources and skills to create training strategies and learning experiences. By the end of this course, all participants will be highly knowledgeable regarding TeamSTEPPS and the application of the tools and strategies they can use to improve the delivery of safe and efficient care within their unit, division or department. This course is taught by, and produces, Master Trainers.
Ready to become a Master Trainer?
Register for this course or view other offerings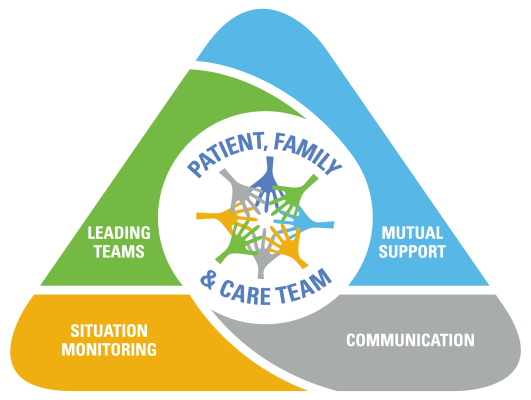 Attending our TeamSTEPPS Master Training course has great benefits:
Learn from your peers.

This course is taught by clinical and non-clinical colleagues who do this work every day and find value in it.

Build internal capacity within your organization.

You'll finish the course with a suite of tools and skills to develop your training/rollout plan, build capacity within your program and expand your team.

Improve value in health care.

Build the leadership skills needed to improve quality outcomes, staff satisfaction and patient experience.
This course is best suited for those with little to no previous TeamSTEPPS exposure who will be actively working on training and implementation in their organization.
The registration fee is $775 per person. This fee includes course materials, meals, and a TeamSTEPPS Master Trainer certificate. Everyone is welcome to attend, however teams of 3-5 are strongly encouraged. This course is designed for teams to develop their TeamSTEPPS training programs. Attending as a team allows for more focused and productive discussion regarding implementation of the TeamSTEPPS tools and strategies at your organization. For teams of 3 or more, we offer a team discount of $75 off each person's registration. To get the team discount, please email a list of attendees to TeamTraining@aha.org to receive the team discount code before registering.
If you registered for this course but can no longer attend, you may send a substitute or request a refund. View our substitutions, cancellations and refunds policy to learn more.
Registration Coming Soon!
Course Faculty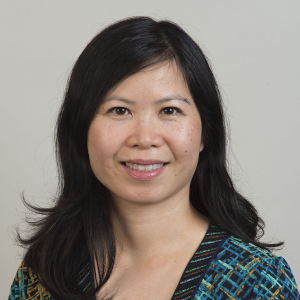 Yue Ming Huang, EdD, MHS
Education Director
UCLA Simulation Center
Additional Course Details
This course will take place Thursday, October 27, 8:00 a.m. to 4:00 p.m. and Friday, October 28, 8:00 a.m. to 4:00 p.m. in Los Angeles, CA. Additional course logistics and travel information can be found in the registration confirmation email.

This course is best suited for those with little to no previous TeamSTEPPS exposure who will be actively working on training and implementation in their organization.

Everyone is welcome to attend this in-person course! Whether you are clinical or non-clinical, anyone who works in the health care field and is interested in improving teamwork and communication should attend. The course is taught by an interprofessional faculty team who will ensure that course examples and discussions are relevant and useful to participants from all backgrounds and levels of experience.

Who are they? Registered nurses, advanced practice registered nurses, physicians, physician assistants, technicians, pharmacists, medical or dental residents/interns, pre-professional students and non-clinical professionals including those in academia, quality, administrative and patient safety
Where do they come from? Hospitals and health systems (including medical offices and clinics), pre-professional academic institutions, ambulatory care facilities, nursing homes, skilled nursing facilities, acute long-term care hospitals, governmental agencies, military treatment facilities, associations and non-profits

This course will cover the following learning objectives:

Identify common communication and teamwork related challenges in health care
Learn the TeamSTEPPS tools and how they can help to overcome communication and teamwork related challenges
Analyze how the TeamSTEPPS tools can be effectively implemented in the health care setting
Practice the use of TeamSTEPPS tools and strategies in practical scenarios and exercises
Construct a plan to teach, coach, measure and implement the TeamSTEPPS tools

Participants will earn 13 credits by attending the course and completing all CE requirements. CE credit is provided by Duke University Health System Clinical Education & Professional Development. They are accredited by the American Nurses Credentialing Center (ANCC), the Accreditation Council for Pharmacy Education (ACPE) and the Accreditation Council for Continuing Medical Education (ACCME).