Our TeamSTEPPS Curriculum
AHA Team Training's exclusive TeamSTEPPS Master Training course curriculum is ever evolving and includes the most up-to-date innovations in the field including TeamSTEPPS 3.0 and human-centered design thinking.
TeamSTEPPS is an evidence-based set of teamwork and communication tools designed to optimize team performance and ultimately improve patient outcomes, increase staff and patient satisfaction, foster resilience and support change management efforts. Our TeamSTEPPS Master Training course will teach participants all the TeamSTEPPS tools and principles - what they are, how to use them, and how to implement them. Participants will gain skills and resources for training others and facilitating a TeamSTEPPS rollout to create meaningful and lasting culture change.
Ready to Dive Deeper into TeamSTEPPS?
Check out current course offerings or learn more about our custom advisory services
What Makes Our TeamSTEPPS Master Training Course Unique?
Our People
We partner with interprofessional faculty teams of experienced clinical and non-clinical health care profressionals who are experts at teaching, using and implementing TeamSTEPPS
Our Curriculum
We teach using an innovative curriculum coupling TeamSTEPPS 3.0 tools with exclusive human-centered design thinking exercises, resulting in a learning experience that helps translate ideas into solutions
Our Approach
Participants walk away with an actionable implementation plan that is both manageable and scalable, fostering program ownership and providing pragmatic next steps for sustainable success
Our Resources
Gain full access to a living suite of AHA Team Training resources, including customizable slide decks, companion worksheets, and facilitation guides for organizational use and customization
TeamSTEPPS Master Training Course Curriculum Overview
Our curriculum reduces didactic lecture and increases experiential learning by using multiple modalities such as low-tech simulation, group discussion, and video clips. On Day 1, participants will learn the TeamSTEPPS 3.0 tools and how to apply them in both clinical and non-clinical settings to overcome communication and teamwork related challenges. Didactic knowledge is combined with opportunities to practice tools and skills, leading participants to apply learnings to real-life challenges. On Day 2, participants utilize human-centered design thinking exercises to construct a strategic and tactical plan to teach, coach, measure and implement TeamSTEPPS at their organization. These exercises start with design thinking canvases developed exclusively for AHA Team Training courses. Each canvas is structured to help participants lead strategic conversations, brainstorm innovative ideas, and design impactful change.
Day 1 Content
Introduction & Setting the Stage — finding the "why" behind the work of team training so that patients and care teams achieve exceptional outcomes
Communication — how to effectively exchange information among team members, regardless of message modality
Tools you can use: SBAR | Call-Out / Check-Back | I-PASS
Leading Teams — how to direct and coordinate, assign tasks, and motivate team members to facilitate optimal performance
Tools you can use: Brief | Huddle | Debrief
Mutual Support — how to assist one another, provide and receive feedback on performance and advocate assertively when patient safety is threatened
Tools you can use: Task Assistance | Feedback | Two-Challenge Rule | CUS | DESC Script
Situation Monitoring — how to develop common understandings of one's own and the team's environment, apply strategies to monitor teammate performance and maintain a shared mental model
Tools you can use: STEP | I'M SAFE Checklist | STAR | Cross-Monitoring
TeamSTEPPS Tools Review — engage in games, practice teaching, or interactive activities to test your new found knowledge!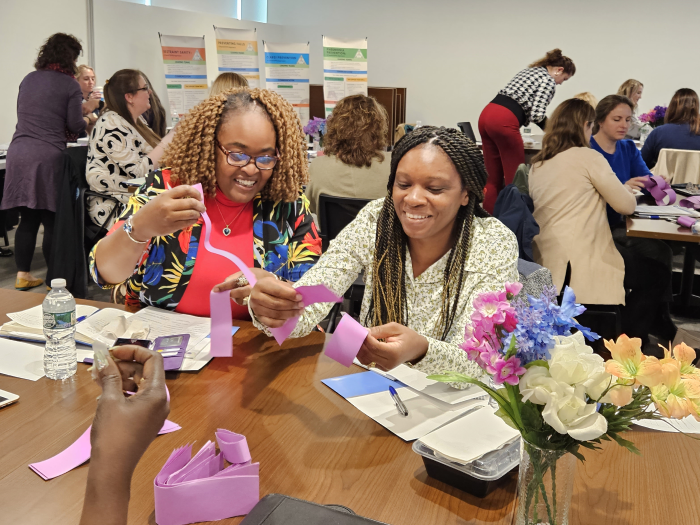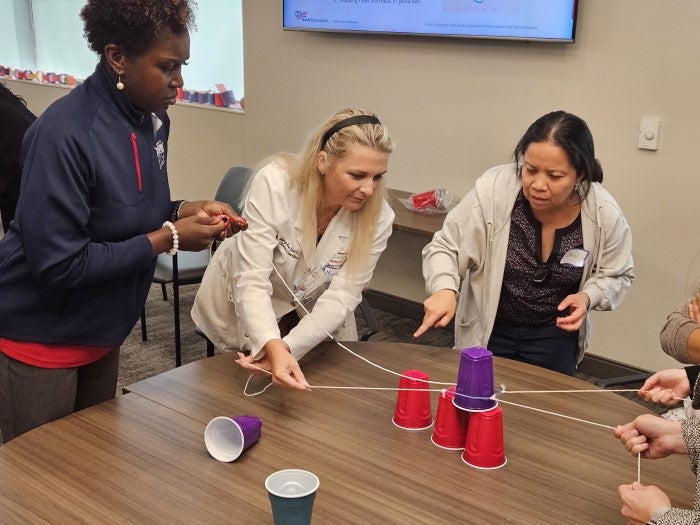 Day 2 Content
Measurement — identify qualitative and quantitative measures that connect into your team's "why" and can be used to assess the impact of TeamSTEPPS on your challenge or opportunity


Inform Your Why design canvas: explore current data, review collection efforts and create necessary measures to inform TeamSTEPPS strategy

Building Your Change Team — outline the purpose and importance of a strong Change Team and identify key stakeholder roles


Stakeholders design canvas: understand the motivations and needs of stakeholders to be engaged, influenced and impacted by change

Change Management — strategize how to motivate and manage change, operationalizing the behaviors needed to successfully implement TeamSTEPPS


Change Management design canvas: develop preliminary tactics on how to direct and motivate stakeholders who are experiencing change

Implementation Planning: Putting It All Together — develop a strategic and tactical TeamSTEPPS implementation plan based on outputs from the day's design canvases


TeamSTEPPS Implementation Summary: This one-page worksheet pulls key takeaways from preceding canvases into a brief summary that can be easily shared with leadership
TeamSTEPPS Gameplan canvas: This canvas moves participants from 'thinking' to 'doing'and guides them to create a project plan that will help reach incremental milestones

TeamSTEPPS Marketplace — participants practice presenting and assessing their TeamSTEPPS plans in small groups to gather feedback and gain new ideas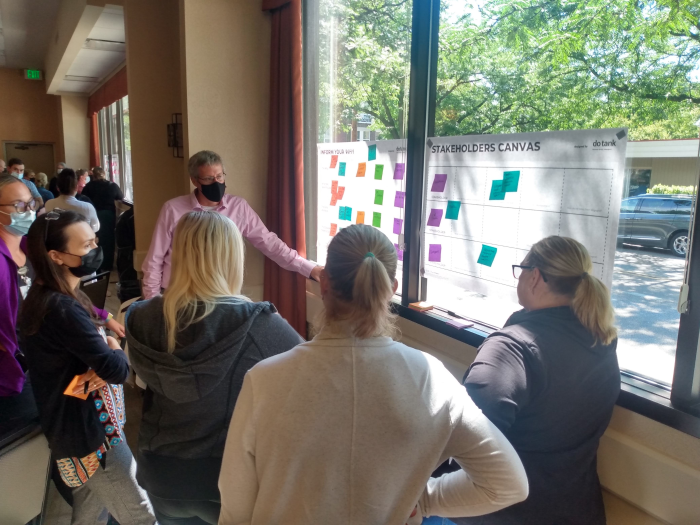 This course is fundamental to the work my colleagues and I are undertaking to optimize the culture for and experience of health care workers.
I appreciated the diverse blend of training activities, scenarios, presenters, and practice examples to reinforce learning. I would definitely recommend this 2-day training to others!
The AHA TeamSTEPPS team was an excellent partner to help us carry out our vision. Not only were they partners in training, but in planning and creating the buzz we needed to accomplish our goals.
TeamSTEPPS is a great example of how teamwork, respect, and mindful communication can and DOES make an incredible impact not only on patient outcomes, but on the psychological safety of the entire health care team.
Virtual vs. In-Person TeamSTEPPS Course Formats
In 2021, we developed our virtual TeamSTEPPS Master Training course format based on several guiding principles: 1) health care professionals need access to flexible learning options that work with busy schedules; 2) live online workshops should be focused on active learning – engaging directly with faculty and peers and learning how to apply tools and skills to a variety of situations; and 3) knowledge transfer is most effective when participants can immediately apply what they learn to their work. With those principles in mind, our virtual TeamSTEPPS Master Training course combines weekly interactive workshops with highly flexible self-paced learning over an 8-week period.
What's the same between our virtual and in-person courses? The TeamSTEPPS content.
What's the difference? The delivery mode.
Participants in both course formats will be taught the TeamSTEPPS tools and supported in project-based learning for the development of their own TeamSTEPPS plans. Whether it's over the course of two days or eight weeks, attending a TeamSTEPPS Master Training course provides multiple opportunities to practice using TeamSTEPPS skills, apply new learnings to real-life challenges, and network with other teams to share ideas and solutions.