The Hospital Community Collaborative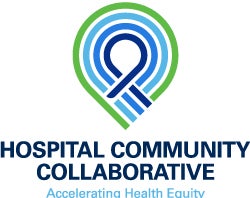 Accelerating Health Equity
Launched in 2019, the Hospital Community Collaborative (HCC) provides proven ideas, insights and resources for creating effective, sustainable collaborations between hospitals and community organizations across sectors to accelerate health equity.
The Hospital Community Collaborative: Join Us
The Hospital Community Collaborative (HCC) aims to make it easier for AHA member hospitals and community organizations to develop and lead grassroots interventions that promote health equity. It involves local people working together to transform the conditions and outcomes that matter to their communities.
Hospital and community partner teams align on strategies and resources with protected time to address upstream social determinants of health.
Curated tools and resources help teams build foundational capabilities and tackle problems together.
A network of leading community health experts provide teams with personalized guidance throughout their HCC experience.
Interested in learning more? To receive the latest news and updates on future cohorts email us at hcc@aha.org.
Stories from the Field
When Your World Begins to Shrink tells the story of the stress and strain of caring for the sick and dying, and how a successful partnership between Community Memorial Health System and the Ventura County Community Health Improvement Collaborative in Ventura, California helped make a positive difference.
View eBook
HCC is made possible by support from the Novartis Foundation. The Novartis US Foundation is a charitable organization established by Novartis to support philanthropic efforts in the United States. The mission of the Novartis US Foundation is to improve health in underserved communities in the United States by creating innovative and sustainable solutions to expand access to healthcare and build trust within the healthcare system.
.