The Hospital Community Cooperative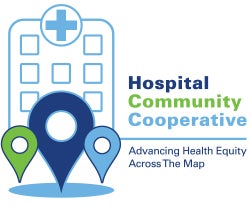 Advancing Health Equity across the Map
The Hospital Community Cooperative (HCC) aims to make it easier for hospitals and community organizations to develop and lead grassroots interventions that promote health equity. It involves local people working together to transform the conditions and outcomes that matter to their community.
Key Findings Revealed in HCC Report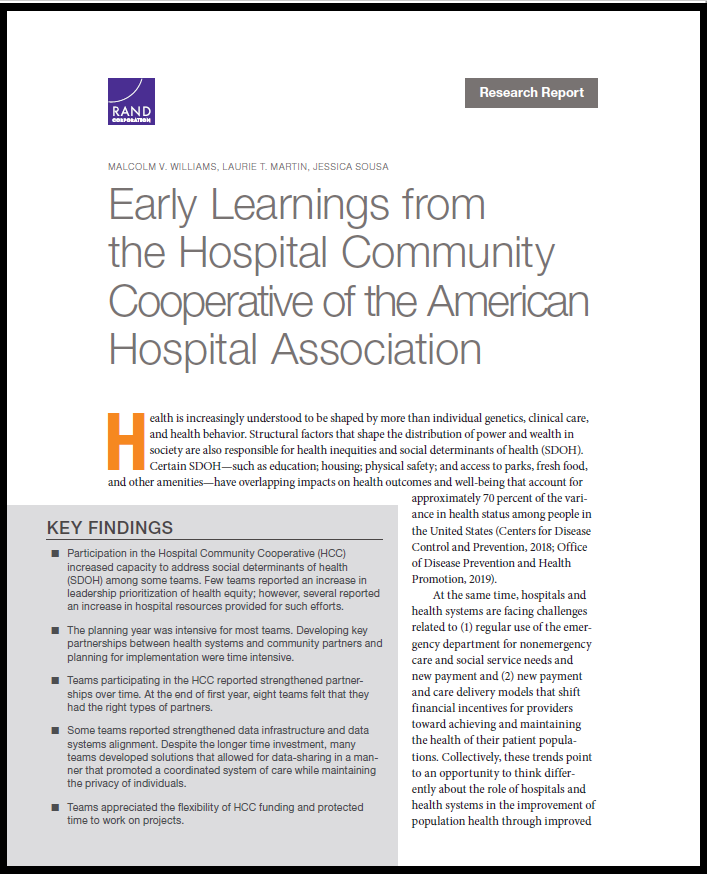 Download PDF
Following the completion of the HCC pilot program, RAND Corporation, a nonprofit institution that helps improve policy and decision making through research and analysis, conducted an extensive evaluation of the hospital and community partner teams and their community health initiatives. Released in 2020, the findings are available in a report called "Early Learnings from the Hospital Community Cooperative."
Ten HCC teams – each made up by an anchor hospital and one or more community partners – were tasked with developing and executing local community health interventions that address critical social needs. HCC's technical assistants and national advisers provided strategic planning and activation support, including personalized coaching, a learning lab and a full range of implementation tools and resources throughout a 12-month period.
The RAND Corporation's report looks at HCC as a whole and measures progress toward its program goals — specifically, how well HCC facilitated cross-sector collaboration, increased capacity for this kind of work, and helped identify promising models and lessons for the field. Findings highlight opportunities and challenges related to forming partnerships, overcoming barriers, maintaining strong communications, identifying community needs and developing interventions to meet those needs.
Findings in Action: MultiCare Health
This report and its findings aim to provide the field with lessons and leading practices that can be taken home to hospitals and community partners across the country. To see these findings in action, watch this case study video on how HCC member MultiCare Health and partners came together to improve disparities in breast cancer education and awareness affecting African-American women in Tacoma, Washington.
Imagine affordable access to quality health and well-being services and resources in every community.
In this new civic ecology, these participating hospitals and health systems are joining together with their community partners in common purpose across space and time -- reducing inequities and improving people's lives. Together, we will succeed.