The Hospital Community Cooperative is a center for research and learning that not only benefits our participating teams, but all hospitals and communities across the country. Here you'll find the best tools for developing partnerships and achieving sustainable community health improvements.
Take the pledge from AHA's Institute for Diversity and Health Equity and commit to take action and accelerate progress on addressing health care equity.

Learn best practices for advancing equity in health care delivery and ensure leadership teams and board members reflect the communities being served.

Does your hospital reflect the community it serves? This tool will help you assess your organization's progress towards creating an environment aimed at eliminating health and health care disparities.

Listen as leaders from AHA's Institute for Diversity and Health Equity and the Center for Health Innovation discuss health equity and its relationship to community health.

HCC NAC member Winston Wong, MD, MS, shares examples of and key learnings from efforts by health care systems working to redesign services to achieve health equity.

Tips and Resources

This toolkit, developed by HCC TA partner RAND, helps guide the efforts of HCO's in implementing and evaluating the National Standards for Culturally and Linguistically Appropriate Services (CLAS) across four settings: ambulatory care, behavioral health, hospitals, and public health.

The toolkit is designed as a guide to help you increase awareness and engagement for your community health programs. It offers templates for communications plans, editorial calendars, employee memos, press releases and more.
---
Learning Lab
HCC's Learning Lab, held from September 26-28, 2018, featured speakers, panels, learning activities, and 1-on-1 technical assistance sessions for each HCC team to continue building out their local place-based health equity programs.
Understanding the Role of Social Determinants of Health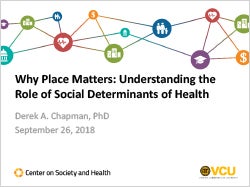 Presentation, HCC Learning Lab
Derek Chapman, Interim Director, VCU Center on Society and Health
Download
---
Get connected with us to learn all about how you can be a part of the HCC program.
Contact Us