AHA Team Training Resources
Materials to Help You on Your Journey
Curriculum
The TeamSTEPPS® curriculum is made available by the Agency for Healthcare Research and Quality and hosted on their website. The AHRQ curriculum includes:
TeamSTEPPS® 2.0
TeamSTEPPS® for Office-Based Care Version
TeamSTEPPS® Long-Term Care Version
TeamSTEPPS® Dental Module
Patients with Limited English Proficiency
TeamSTEPPS® Rapid Response Systems Guide
Training Guide: Using Simulation in TeamSTEPPS® Training
TeamSTEPPS Guide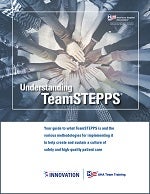 Our new TeamSTEPPS guide is now available for download. Understanding TeamSTEPPS outlines what TeamSTEPPS is as well as various implementation methodologies based on different organizational goals and resources.
Also included in the guide are several case studies highlighting the work of different health care systems that are using TeamSTEPPS to create and sustain a culture of safety and to provide high-quality patient care.
Pocket Guide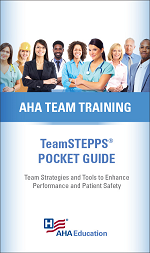 The NEW TeamSTEPPS Pocket Guide is here!
An essential, go-to resource, the Pocket Guide is a quick reference to TeamSTEPPS tools and principles.
There are two easy ways to get your own Pocket Guide:
Purchase a 10-pack in the AHA Online Store
Don't miss out on this must-have TeamSTEPPS item!
Research and Evidence
Team training including TeamSTEPPS has been published by health care professionals in the United States and abroad. AHRQ has a TeamSTEPPS research and evidence base that is cataloged by a variety of topics and clinical disciplines.
About Team Training and TeamSTEPPS
We've created a short document that provides high level information about our program and our flagship educational program. Download our PDF for a shareable summary of AHA Team Training and TeamSTEPPS.