The Hospital Community Cooperative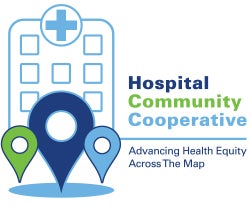 Advancing Health Equity across the Map
Grounded in the belief that health care and community care are more effective when we combine our efforts to address health issues than when we work separately, AHA created the Hospital Community Cooperative to help drive powerful changes and improve people's lives.
The Hospital Community Cooperative (HCC) aims to make it easier for hospitals and community organizations to develop and lead grassroots interventions that promote health equity. It involves local people working together to transform the conditions and outcomes that matter to their community.
Ten HCC teams, each made up of a lead hospital and one or more community-focused partners, are required to create health and wellness initiatives that address social determinants of health with measurable results. These initiatives demand a set of core competencies -- such as community assessment, planning, mobilization, intervention, advocacy, marketing and evaluation -- to be successful. HCC teams gain critical access to nationally recognized health care and community care experts, as well as program design and execution resources – all of which are made available through AHA.
Supported in part by the Aetna Foundation, this ongoing initiative is designed to address all aspects of a just, vital and thriving community, such as
"Studies reveal that ZIP code—even more than genetic code—is a strong predictor of health, well-being and lifespan. This means that for many communities, a small distance can add up to large disparities in health. It's time to close this divide."

AHA Chief Medical Officer and Senior Vice President
"While most of the factors that impact our health take place outside of a doctor's office, hospitals actually have a significant opportunity to serve as a central resource for health within their respective communities. We are proud to work with the American Hospital Association and support hospital groups that are devoted to addressing the SDoH."

President, Aetna Foundation
Imagine affordable access to quality health and well-being services and resources in every community.
In this new civic ecology, these participating hospitals and health systems are joining together with their community partners in common purpose across space and time -- reducing inequities and improving people's lives. Together, we will succeed.