Project Firstline – A Strong Team Approach
Building a Culture of Safety and Prevention
Implementing a multidisciplinary approach to infection control can be powerful. Through Project Firstline, AHA offers hospitals and health systems the tools and resources needed to engage all stakeholders – from bedside nurses to administrators to environmental staff – to identify areas of improvement, commit to an action plan, monitor practices and adjust as needed.
Our Goal
Support facilitators tasked with leading IPC improvements, guide standardization and inspire everyone to understand and take ownership of the vital role they play in preventing HAIs across your organization.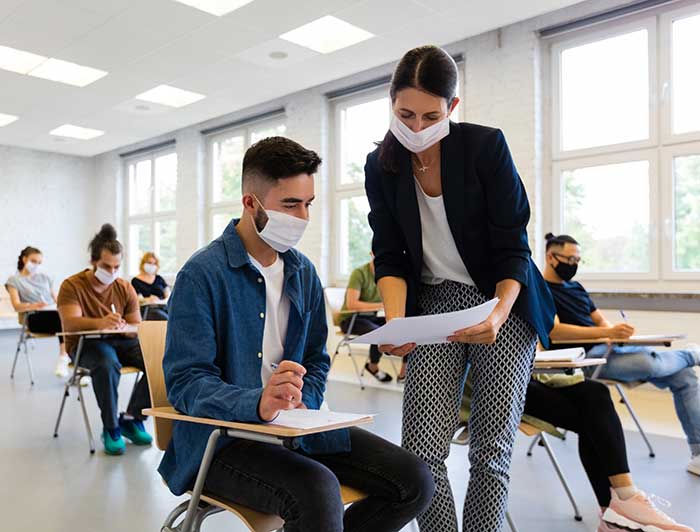 Community College Training Program
AHA is partnering with the CDC and the League for Innovation in the Community College on a new pilot program to train future health professionals to prevent and control infections through community colleges nationwide.
Featured Resources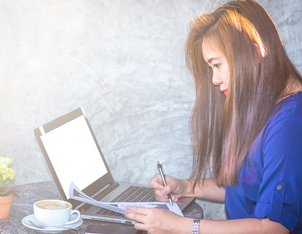 Project Firstline offers two new guides on proper ventilation to contain and reduce airborne contamination. One guide is designed for health care facility managers and the other is for nurse managers and clinicians.
Access the Guides
Ventilation Series for Clinicians
ASHE has developed videos for clinicians and engineers working in a health care setting covering important topics on ventilation.
View the Entire Series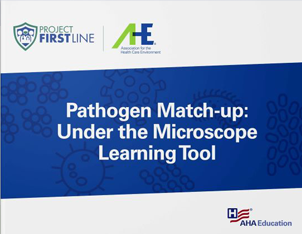 AHE Pathogen Match-up Tool
The AHA, in collaboration with AHE, has released a new training resource titled Pathogen Match-up Tool. This tool is designed to educate front-line health care workers on the six most common pathogens found in health care settings. Download the tool and test your knowledge today.
Download
"It's the men and women walking through the door and into the patient's room that determine if we are a high reliable and safe organization. Knowing how to connect and communicate with that population is important. At the AHA Advancing Care Conference, featuring Project Firstline, that theme is consistent."
Children's Hospital Colorado
"Project Firstline is one of the great things that we have seen come out of this pandemic. It is the basic infection prevention and control skills we need at the front line to protect patient safety and to protect our health care workers."
Tennessee Hospital Association
"I really appreciate Project Firstline and the American Hospital Association for their commitment to bringing leaders together to make positive change."
Providence St. Joseph Hospital-Eureka
"Being from Fairbanks Alaska, it has been invaluable to have the opportunity to learn about additional resources being created that can help our movement and progression towards the best patient care possible."
Foundation Health Partners - Tanana Valley Clinic
Partners
Project Firstline is a collaborative between CDC and a diverse group of organizations
American Academy of Pediatrics, American Medical Association, American Nurses Association, Asian and Pacific Islander American Health Forum, Health Research and Educational Trust, National Association of County and City Health Officials, National Council on Urban Indian Health, National Indian Health Board, National Network of Public Health Institutes.