Next Generation Leaders Fellowship
This annual fellowship is a unique opportunity to be paired with an executive-level mentor who will guide you through the planning and execution of a year-long transformation project at your hospital or health system.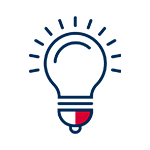 Take the next step to transform your career
Applications for the 2021-2022 cohort are open and reviewed on a rolling basis. Submit your completed application today.
Apply
Background
America's hospitals and health systems are transforming to meet the changing needs of our patients and our communities. It is vital that future health care leaders have the knowledge and skills to adapt while navigating these changes.
The AHA Next Generation Leaders Fellowship focuses on developing leaders and empowering them to bring about real and lasting change in the hospital and health systems in which they serve. The program will help emerging leaders tackle key issues and challenges affecting health care affordability, cost, quality and safety. The fellowship will focus on five program pillars:

Navigate the new health care environment and competitive landscape
Expand innovation capacity
Effect positive organizational change
Drive digital transformation
Lead the shift from health care to well care
See the five pillars in action
Benefits
For Fellows
Participate in Interactive, Collaborative Learning
Experience a transformational learning environment where participants engage with a community of experts and peers to solve complex problems both online and in-person.
Establish Lifelong Networking Connections with Peers and Mentors
Network and make professional connections with peers, mentors and expert faculty. A mentor will be matched to each Fellow in order to provide personalized coaching and guidance throughout the program.
Manage Change in the Face of Uncertainty
Gain the skills to lead behavioral and system-based changes within your organization.
Improve Value in Health Care
Gain leadership skills through the execution of a project that will provide value to your organization.
For Organizations
Gain Solutions to Current Challenges Your Organization is Facing
Fellows will be working on a project that will benefit their organization's strategic needs.
Strengthen Your Organization's Leadership Capability
Fellows become more valuable to their organizations from day one, because they bring back new ways to look at challenges and leadership skills that are immediately applicable.
Develop New and Stronger Connections to the Field
Not only do Fellows gain new perspectives and insights by working closely with peers and mentors, they also form relationships that outlast the program. By forging long-lasting bonds with equally ambitious and often like-minded professionals, Fellows bring connections and resources back to their organizations, in addition to the knowledge they acquire.
Increase Employee Retention
Developing high-potential employees pays off in retention, innovation and succession planning. Studies have shown that employees whose organizations invest in their professional development remain loyal to their current employers for the long-term, both securing and extending your return on this investment.
Scholarships

The John A. Hartford Foundation
Age-Friendly Health Systems Cohort Scholarships for the AHA Next Generation Leaders Fellowship
The John A. Hartford Foundation provides 12 scholarships for a cohort of Age-Friendly Fellows. These fellows work towards providing enhanced care to older adults by reliably implementing a set of four evidenced-based elements of high-quality care, known as the 4Ms Framework, at their organization.
Scholarships for the 2021-2022 cohort are now closed. Additional scholarships for the 2022-2023 cohort will be available in early 2022. Learn more.